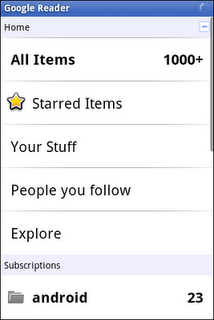 I've always been puzzled as to why there isn't an official Google Reader app on Android. I mean, Android has built-in RSS functionality, but why would they keep that separate from their massively popular and wildly useful Google Reader? When it comes down to it, I need to have my RSS solution synced across all devices, not stuck on one device. Google Reader has been a solution to that issue, but until now there was never an official Google Reader app for Android.
Well, several years after the release of Android, Google has finally released and Official Google Reader app.
Sure, you've always been able to access an admittedly good Google Reader web app at www.google.com/i, but this web app was originally designed for iOS devices and, in fact, still uses graphics which are designed for older generation iOS devices, leaving them pixelated on modern iOS or Android devices. Not to mention that you don't have access to some of the features that the native app now offers.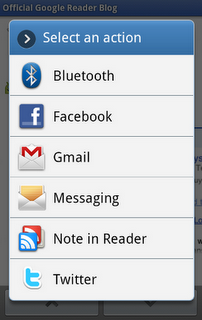 The Google Reader app will run on any Android device with Android 1.6 (Donut) or later, and includes many of the core functions that you can do with the desktop version that we've come to know and love. Most of your settings will sync between the two which is nice. Some of the features include:
Multiple accounts
Synced preferences
Ability to subscribe and search for subscriptions
Search through your feeds
Volume key navigation (awesome!) – allows you to navigate between items using the volume buttons on your device
Share items using Android's integrated sharing menu (let's you share with Gmail/Facebook/SMS/Bluetooth/Reader/Twitter and other third party apps)
Initial testing on the Samsung Continuum [tracking page] shows great core functionality. Speed is decent but I'm not quite sure if it's as quick as the web version.
The only issue I've seen so far is that when you rotate between landscape and portrait orientations, the view is reset to the top of the current item. This is annoying if you decide to switch orientations in the middle of reading. Also for the time being there's no way to get notifications which some will surely want, but if you follow a high volume of sites you'll realize why this would only be bothersome. Still, I could see an update every 4 hours or so showing how many new items you've received being useful, but we'll just have to wait and see if an update eventually brings such features.
If you can't stand typing, hit up the barcode below with your Android phone to jump straight to the app in the Android Marketplace, or just search the Marketplace for "google reader inch: