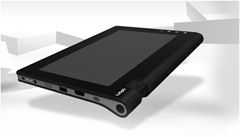 Now that we've finally got some proof that the Notion Ink Adam is at least available as a working sample (below,) lets have a chat about it.
Notion Ink have had no shortage of media coverage about their device and unique features such as daylight-readable screen and Tegra 2 platform running 2.2 with a custom UI mean there are interesting things to discuss. Fans seem to be following too. In droves! It's a bit like the WeTab and JooJoo following in that respect.
Personally, I like the Tegra 2 platform now that Google appear to be using Tegra 2 as the reference processing platform for Android 2.3 (I'm praying that Toshiba claws back some credibility and  release 2.3 for the AC100!) but this is a 10 inch tablet and weighs more than the iPad. That knocks me out of the customer list and I'm sure a lot of other people too.
10 inch screens work well for newspaper and magazine content though and Google Earth will look great on this… when you managed to find the APK and sideload it.
Sorry to sound so negative on this one but I haven't yet seen a well integrated Android stack on a 10 inch device. From CPU and core OS through UI to content availability there's a mismatch. My head thinks 'multitasking', productivity' and I immediately get disappointed when I go through the real-world scenario in my head.
The Archos 101 article I wrote recently ('One for the Coffee Table') has some good pointers on the 10 inch platform. Sofa, coffee-table, holiday.
What are you going to use this coffee-table gadget for? Ignore email, Twitter, Facebook and anything else that needs an account because when you share a single-user Android device with the family, you're at risk. What the family needs (possibly) is a flexible on/offline video player, image viewing, web browsing and gaming, a bus/train/flight timetable, holiday booking, Wikipedia and other casual activities. Pure entertainment. [source]
At 299 Euro I can really see the match but at $375 it's pushing it a bit.  Maybe the custom UI changes everything though? [See video below]
It does indeed look good and I'm really pleased to see the window manager so truly active that you can interact with programs running in it. You've got the makings of a windowing Android OS there! Certainly side-by-side apps is something I've been thinking about on the Galaxy Tab. Here's the demo video from Notion Ink.
We're bound to see the Adam at CES in a few weeks so I'll report back when I've had hands-on but for the time being I remain skeptical that it's going to be a device that really satisfies customers.
But that's just my opinion. What's yours?