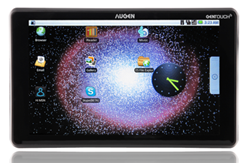 Despite having a presence at CES, my favorite deal-a-day site, Woot.com didn't manage to snag any of those fancy new tables that were put on display. They did however, managed to secure a stock of Augen Gentouch78 slate android devices that will let you jump into the Android game rather cheaply, but also fit snuggly into the "you get what you pay for category inch.
The biggest letdown of the Augen Gentouch78 is definitely the resistive nature of it's 7 inch 800×480 touchscreen. You won't have as good of an input experience as you would on a capacitive touchscreen device. Next to this, the 256MB of RAM and 800MHz don't remotely stack up to any flagship mobile device, but you'll be getting Android 2.1 which isn't too shabby. Let's also not forget to mention that apps won't install through the Android Marketplace, despite the fact that it comes pre-installed. I'll point you to Engadget's review of the device before you consider this $109 purchase. And let's not forget, Woot deals are only good for one day (or until stock runs out) and this offer will vanish at 1AM EST.
And hey, even if you aren't interested in the Augen Gentouch78, jump over to Woot.com to read their always-witty product description for some tablet related laughs.