Cameras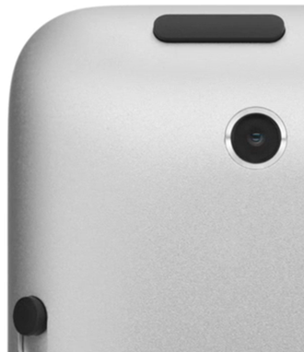 The iPad 2 was introduced with a front and rear cam as just about everyone expected. Apple says that FaceTime will work from the iPad 2 to any other FaceTime enabled device (OSX computers, iPhone 4, and latest generation iPod Touch) out of the box. Fortunately, both cameras are accessible by developers for third-party applications, so if you are a dedicate Skype user, fear not, you'll be able to get your Skype on.
Sadly, the rear camera is likely using the same hardware as the iPod Touch, instead of the iPhone 4. While the iPhone 4 has a 5MP BSI camera, the iPod Touch only has a 0.9MP rear camera which is quite low resolution by still camera standards, but still has the resolution to enable the device to take 720p HD video (1280×720).
Because Apple isn't making a big deal about the rear cam on the iPad 2, we're presuming that it'll be the same deal as the iPod Touch. That means HD recording capability, but stills will only be shot at tiny 960×640 to preserve the 4:3 ratio. We also know for sure that the iPad 2's front camera is the same as the iPod Touch, so don't expect any more than VGA quality (640×480) FaceTime video chatting.
CPU, GPU, and Battery Life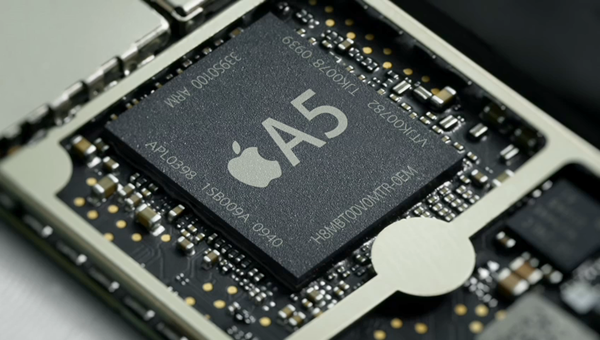 Apple has continued to develop it's custom SoC (system-on-a-chip). The original iPad used the A4 (the same CPU in the iPhone 4), and now Apple is unveiling the A5 which will power the iPad 2.
The A5 is still running at 1GHz like it's predecessor but it's dual-core. That means that processing can be more efficiently distributed and be executed more quickly during high demand. It's unclear if developers will need to rewrite apps to take advantage of the dual-core functionality, but at very least, Apple probably had to make some vital changes to iOS in order to get the OS to take advantage of both cores of the CPU.
Apple also says that the graphics performance on the iPad 2 has been enhanced by a factor of nine! And while you probably don't need any more power to fling birds into buildings, graphically intensive games like Infinity Blade will certainly benefit, and speed improvements will likely be seen throughout the system because nearly all animations are hardware accelerated by the GPU.
Apple says that it's managed to keep the iPad 2's usable battery life to 10 hours, even after adding performance to the CPU and GPU. They also mentioned at the announcement that the iPad 2 will have one month of standby time. Wow.
Display Mirroring & AirPlay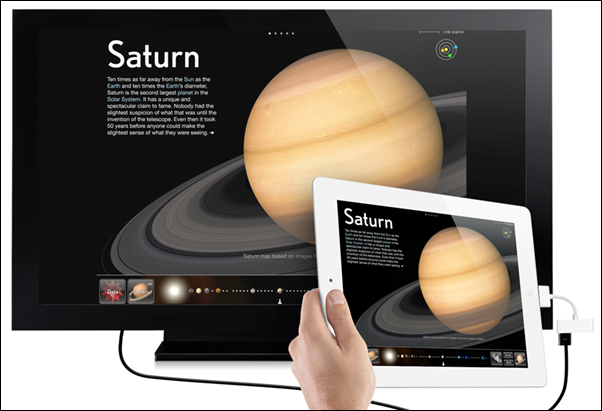 Apple's iOS used to support video-out to displays for certain core apps; third-party applications could also build such support into their apps for users to make use of. With the iPad 2, Apple is introducing "display mirroring inch which is exactly what it sounds like: hook the iPad 2 up to a display and you'll be able to see exactly what you see on the iPad screen. This means that TV output from the iPad 2 is system wide rather than being restricted to certain apps.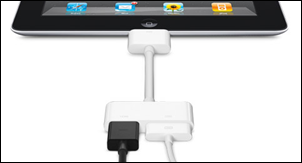 Display mirroring is dependent on a separately sold adapter. Apple is offering an HDMI adapter (pricing not yet announced), component ($39), composite ($39) and VGA ($29).
This move is definitely aimed toward using the iPad as a productivity tool. Now you'll be able to bring your iPad along to that important meeting and put on a Key Note presentation directly from it, or show any number of applications right on the big screen (I have a feeling that this will make the EMD PTE app great for the classroom).
Apple claims that display mirroring will be it full 1080p, though because of the iPad's 4:3 aspect ration, you'll see 1440×1080 output (not the commonly found 1920×1080 found on 16:9 HDTVs). The mirrored display will also reflect the device's orientation.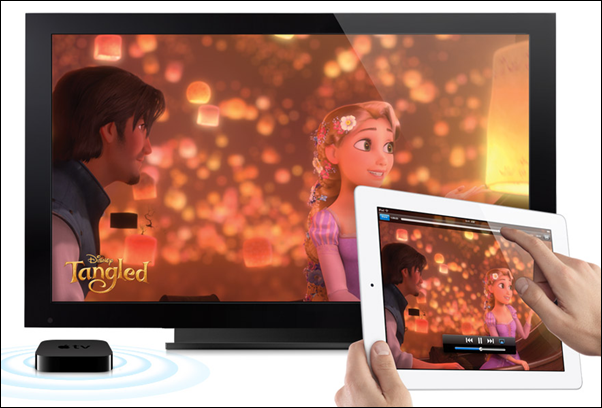 With an Apple TV, you can use AirPlay to stream content from the iPad to the big screen wirelessly. You can output videos, photos, and music, but it looks like display mirroring is reserved for a physical connection.
iOS 4.3

Along with all the iPad 2 news today, Apple spoke about the forthcoming iOS 4.3 update. The iPad 2 will launch with iOS 4.3 built in, and we're expecting to see it deployed as a download to other iOS devices sometime around the March 11th iPad 2 launch date.
iOS 4.3 will bring the AirPlay enhancements detailed above to the original iPad. They're also adding iTunes Home Sharing to devices running 4.3 which means that you'll be able to play any content (music, movies, podcasts, etc.) from your iTunes library on your iOS device without having to sync.
Also coming to the original iPad is the ability to change the function of the switch on the side. When the original iPad was launched, the switch functioned as a rotation lock. However, once the rotation locking ability was added into the software in a later update, the switch was changed from a rotation lock to a mute switch. Some people weren't happy about this change, and now Apple is letting users choose (gasp!) whichever they'd like it to be from the Settings app. It's unclear whether this option will be extended to the iPhone, whose switch has been a mute switch for the duration of the product line.
The Personal Hotspot functionality is being deployed to the iPhone. With it, you'll be able to share your 3G connection through WiFi (as a hotspot), Bluetooth, or USB. But of course you'll want to check with your carrier to make sure that you have a tethering plan, otherwise they might bill you extra for nothing.
Continue reading on page 3 (Pricing and Availability, Overview Video, Hands-On & Photo Booth, Gallery & Tracking Page)…