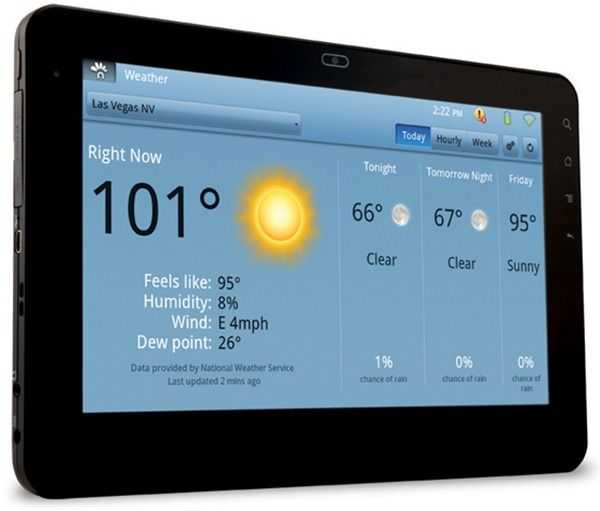 Now isn't this just typical of Woot. Here I am, right about to head to sleep when Woot.com has to go and put up some awesome gadget that I have to tell you all about. If this were any other site, I would go to sleep and write about it in the morning, but this is Woot and that means that this deal good for today only! Therefor, the sooner you know about it, the better (you can thank me with a cup of coffee in the morning, if you must).
Anyway, today's Woot is actually quite tantalizing. You'll be getting a brand new, impressively speced ViewSonic G-tablet for a mere $279. This thing has the powerful Nvidia Tegra 2 chipset with a dual-core 1GHz CPU packed inside, not to mention 512MB of RAM. It's running Android 2.2 as well.
The only show stopper? No official Android market access. They've pre-loaded a third party store called the G-market which actually links you up to apps that Handango offers. You won't find official versions of Gmail, YouTube, Google Maps, etc. on this device, but if you did some looking around, you may find a way to enable such functionality.
There's also a custom interface layered over the standard Android which is reportedly somewhat sluggish. But, according to a release on ViewSonic's site, a recent update allows the user to switch between the customer interface and the default one (hurray for choice!).
Important Specs:
Android 2.2 (no Android Market access)
10.1 inch capacitive touchscreen @ 1024×600
Dual-core Cortex A9 Nvidia Tegra CPU @ 1GHz
512MB of DDR2 RAM
16GB internal memory
1080p hardware decoding: H.264/H.263/ VC-1/MPEG-2/4/WMV9/DiVX
Front-facing 1.3MP camera
MicroSD slot, full-sized USB 2.0 slot, MicroUSB slot (for charging)
3.5mm headphone jack
If you're interested, head over to Woot.com to check it out, they've got a boat load of additional specs. Don't forget that this deal will vanish once the clock strikes 12am Central time, or even earlier if it sells out!
LaptopMag has a solid review on the ViewSonic G-tablet if you are looking to do some pre-purchase research.