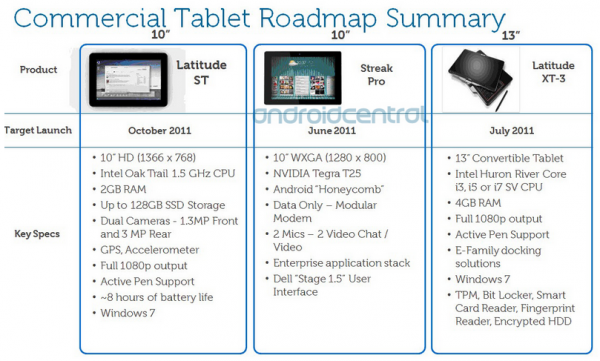 A leaked Dell Tablet roadmap has revealed three new touchscreen devices may be released this year starting with an Android 10 inch tablet in June.
The leak mentions the Android based 10 inch Dell Streak Pro, a third generation convertible XT tablet (Windows based, and not so portable given that it will probably weigh is excess of 2 KG's), and the Latitude ST which will run an Intel Oak Trail processor and Windows 7.
According to the leak the new Streak Pro will run a Tegra T25 dual-core A9 (1.2GHz) chip which is a newer version than the Tegra we know from Tablets like the Xoom. I currently use a Viewsonic G-Tab and Motorola Atrix 4G (both with the current Tegra 2) and I've been very happy with the performance of both, although the roadmap indicates an overly on top of Android called Dell Stage 1.5 which hopefully won't detract from the performance of the device. There's also mention of USB host support (allowing it to access external drives via USB) which is a great feature as having support for this makes life with an Android device much easier.
In my opinion the original Streak [product page] occupied a difficult place in between devices as it was too big to be a phone but too small to be a tablet.  At 10 inches the Streak Pro is obviously positioned to compete with the iPad 2 [product page] and that's a very hard market to compete in. If Dell can get the hardware, software, and features right it will make life a whole lot easier when it goes up against the current king of the 10 inch tablets.