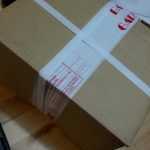 The HTC Flyer I ordered on Friday has literally just arrived at the door and Im looking forward to ripping this open and seeing how it compares to the Galaxy Tab which is currently the most popular 7″ tablet on the market and has been a very good companion to me for over 6 months now. Expect an unboxing video soon. The Live Review will be held on Wednesday evening at 2100 CEST (Berlin.)
In terms of features, there are definitely a few to talk about and some that are unique to the Flyer ensuring at least some sales. The #1 feature is the digitizer input layer and active pen that integrates with a special input mode on the Flyer. Annotations and notes.made though this layer can be captured into the Evernote cloud storage, OCR and search application. It's a well known and well trusted application and the integration will carry a lot of value. I hope a full Evernote license is included for offline notes.
There's also the 1.5Ghz CPU to consider. It should provide a noticeable jump in performance over the Galaxy Tab.
There are two major issues to consider and either of these could be show-stoppers. Firstly, assuming you want to use a 7″ tablet for pen input (something I've never been a big fan of over the years that I've been reporting about tablets) you've got to remember to take the pen with you. There's no integrated.storage which is really quite an issue. I'll have to test that all-important palm rejection too.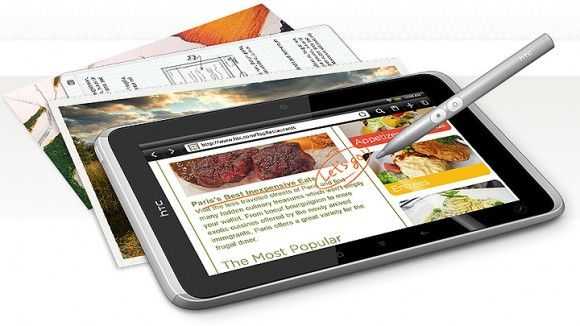 Then there's the price. As i write this, the Flyer 16Gb WiFi version is €499. The Galaxy Tab WiFi is available for €269. This issue will reduce over time as margins reduce but it may never catch up with the price of the Tab due to the screen technology used. You've got to be a pen-input fan that remembers to take the pen or someone that really really needs the extra CPU power.
Or are the other features worth considering? It's true that not many tablets offer video content for download and streaming so HTC Watch will be an important service to check out. If the content and price is good, it's a great feature. OnLive-CloudGaming is also a feature to check out. Dual-location on-frame buttons (that enable and disable depending on rotation) Skype video and HTC Sense are also unique features.I'll also be interested in the 'HD' video recording  support and other hidden features that are sure to crop up.
On the downside, it looks like there's no voice stack (I assume that includes SMS, MMS and Video calling (over UMTS) support. Its something I use a lot on the Galaxy Tab thatnks to Multi-SIM. I get the same number on my Tab and my smartphone.
Is there enough to entices people here? As time goes by and the price comes down into the same range as the Galaxy Tab and Acer Iconia Tab A100, I think there will.
Stay tuned here for the unboxing or subscribe to Twitter, RSS Facebook, or YouTube for notifications.