Is it Oaktrail or is it Cedar Trail. Given that Cedar Trail is likely to be a big component of Intel's keynote in about 4hrs (with netbook and tablet details scheduled for another keynote tomorrow) then that's where I would but my money.
Notebook Italia got a glimpse of the ultra-thin device which has ports re-located to the rear due to the thinness of the chassis. Remember the Cedar Trail is rumoured to have a PowerVR graphics core and WiDi support. The power envelope should be around 4-5W TDP for the platform and that matches the thermal limitations I'm seeing in that design, even if I can't go and touch it from here! Also keep an ear open for 'always updated' which is something that would require new hardware and software.
The other interesting thing is that the designers have squeezed in a convertible screen without bulking the design out as central hinges tend to do. Still, this is only a reference design; practicalities often get ignored for those!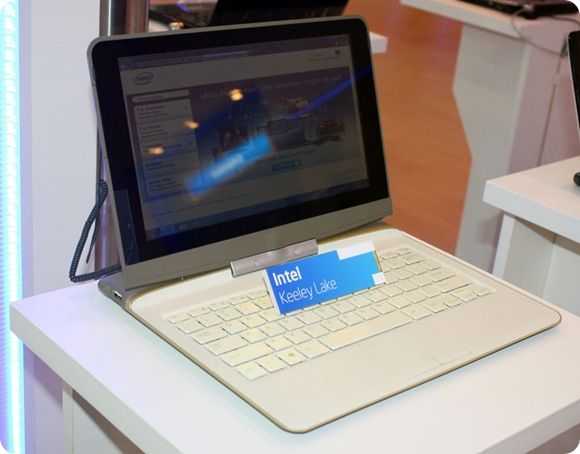 Notebook Italia have another image here.