Update: Mojang has released a video of Minecraft Pocket Edition running on the Xperia Play. We can see here some Creative-mode play:

In what is undoubtedly an important step for the Sony Ericsson Xperia Play, the mobile version of the indie-hit game Minecraft will be released on the game-centric smartphone before any others.
Minecraft is an open-world building and survival game that has taken the gaming world by storm since it's release in 2009. It's hard to explain exactly what Minecraft is, but the developers offer this video on their site to attempt to convey the game to newcomers:
Not only is Minecraft a major success, it's also unique because it's developed by Mojang, a company made up of a few indie developers, rather than being backed by a major publisher. The desktop version of the game, which runs on Windows, Mac, and Linux, is still in beta but has sold more than 2.3 million copies. Needless to say, Minecraft is big, and securing it as an exclusive launch for the Xperia Play is a big deal for a phone centered around mobile gaming.
Mojang founder, Markus "Notch inch Persson mentioned back in March that work on a mobile version of Minecraft had begun and later news indicated that it would be available for iOS and Android when launched.
Now, Gamasutra is reporting that a Mojang representative has confirmed that Minecraft mobile will be released first on the Xperia Play and presumably have some duration of exclusivity on the phone. The version made for the Xperia Play will reportedly have controls optimized for the phone's unique gaming buttons and control pads.
It's unclear whether or not the release will be exclusive to all phones, or Android devices only.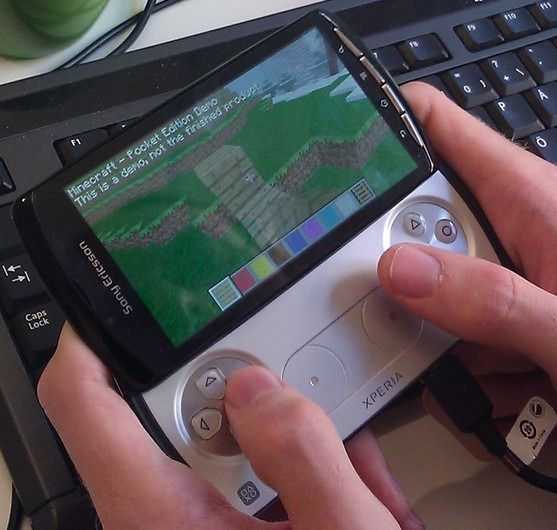 It sounds as though Minecraft Mobile will not be an exact recreation of Minecraft as we know it on the desktop. Gamasutra has a quote from the company noting that the game will be tuned specially for mobile devices:
When playing on smartphones you will have a different screen size compared to PC, different hardware, different attention spans and thus the game needs to be customized to fit the mobile specifications
As a Minecraft player, I'm not sure exactly what to think of this. I'd love to be able to connect to my server and play the game on the go from a device that could fit in my pocket. If I'm forced to play a single player version of the game, or one that is incompatible with the desktop version, the allure of Minecraft Mobile will be greatly reduced for me and perhaps many others. Here's to hoping that the mobile version sees feature parity and compatibility with the desktop version!
More info about Minecraft Mboile is expected at this year's E3 which will be held in just a few days from June 7th to the 10th.
Perhaps once Minecraft Mobile is release across numerous platforms, people can all stop ranting about Angry Birds and start playing a game that's actually good (yeah, I said it).