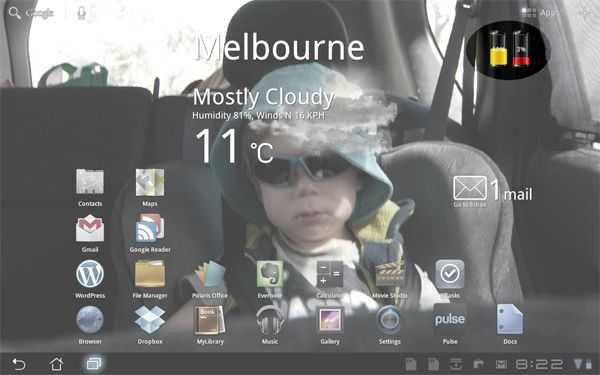 I stumbled on this pretty cool widget for the Asus Eee Pad Transformer [tracking page] that allows you to monitor both the tablet battery and the keyboard docking station battery. Asus didn't actually give us any way to keep track of the charge in the dock other than a blinking LED which is next to useless. It basically turns green when charging, amber and amber flashing when being used and doesn't light at all when empty. Not very helpful. This widget shows the percntage status of both batteries, right on your homescreen.
It was developer by an Android developer and is available here:
http://www.apktop.com/dual-battery-widget-0-3.html
It works as advertised and has a cool feature which only shows the battery status for the dock when you actually have it docked. It's not from the market so you will have to download the .apk file and setup your Transformer to allow installs from third party providers (via your settings).
The widget is resizeable, and while the developer mentions advanced options to change text size and more I haven't worked out how to do that yet; let us know in the comments if you have any luck!