UK company AndyPad will launch a  new line of inexpensive (but hopefully not 'cheap') 7″ Android tablets on August 31st. Advertised features for the pair of 7 inch slates include mini HDMI-out, a micro USB port, a 3.5mm audio jack and a microSD card slot. Both pads will run the same processor, a Cortex A8 CPU listed at 1.2 GHz. The aptly named AndyPad and AndyPad Pro will also share the same Android Gingerbread 2.3 OS, WiFi, and claimed 1080p HDMI out capabilities. The lower-end AndyPad will cost £129 ($210 USD) while the AndyPad Pro is listed at £179 ($291 USD). Right now there is no mention of the AndyPad devices having official access to the Android Marketplace, though the video embedded below does show the Marketplace icon on the device. We've reached out to the company to confirm whether or not the device will ship with Marketplace access and are awaiting a response.
The two versions of the device differ is in size of internal storage, touchscreen technology, and cameras. 8GB of storage for the Andypad, and 16GB for the AndyPad Pro. The non-Pro unit only has a rear-facing camera, while the Pro version has both front and rear-facing cameras. The Pro unit also carries a higher resolution screen, with a 1024 X 600 "SensaTouch" (capacitive) touchscreen. The baseline AndyPad has a 800 X 600 "ResiTouch" (resistive) touchscreen. The AndyPad Pro also adds Bluetooth to the mix.
I am a user of the Dell Streak 7, which also features an 800 X 600 touchscreen. While this resolution is passable for browsing, it limits how much can be displayed on a screen when a user is trying to run a productivity application. While we realize that some users may consider productivity use-cases invalid for a 7 inch tablet with an 800 X 600 resolution in the first place, that does not keep me from trying. As far as the AndyPad Pro's display, I have not had much hands-on time with the original Samsung Galaxy Tab, but it is, of course, also a 7″ tablet with a 1024 X 600 resolution. I have been impressed by the screen on the Galaxy Tab, so if the Andypad Pro can match it, that should count as a plus for potential buyers.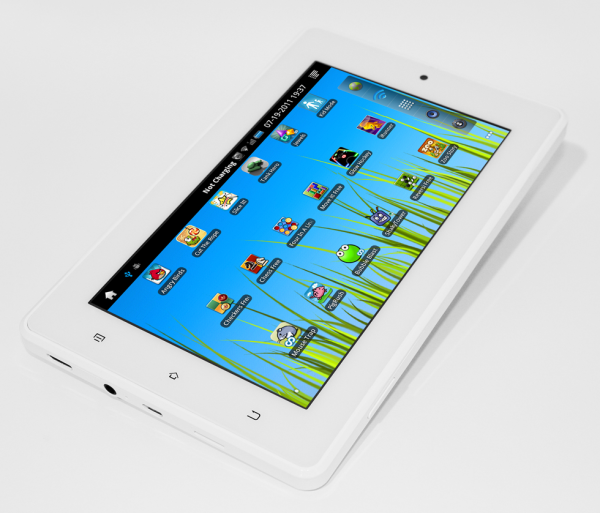 As readers can probably tell from the feature-set so far, the Pro model is targeting the adult, ultra-mobile crowd, while the base model will likely appeal more to tweens and teens. It is still a tough sale to get mainstream consumers to buy into the 7 inch form-factor when 4.5 inch smartphones are available. Still, as 10 inch tablets become more appealing, the "next-step down" effect may continue to bring 7 inchers to the stage as appealing alternatives.
NetbookNews caught wind of an official video from AndyPad showing the device in use:
These devices represent interesting things, both in terms of the implementation, and in terms of what they represent for the market. Android Tablets in this price range have a pretty poor track record for how well they perform once retail product actually hits store shelves. All my hopes are with AndyPad that they score even a mid-range hit with tablets for this price. We'll be keeping our eye on the AndyPad(s) and see if they can stand up to some other recently announced well priced (albeit larger) devices.
Sources: