As phone / PC combos go, this Fujitsu F-07C is definitely the smallest I've ever seen. It's also the smallest PC I've ever seen.
A 1.2Ghz Atom, 1.0GB of RAM and 32GB of storage sounds like it could work as we've seen similar set-ups in the past. 1024*600 screen resolution is ok too. You've got a slide-out keyboard, Wi-Fi and a docking port and a local RRP of $850. Sounds exciting.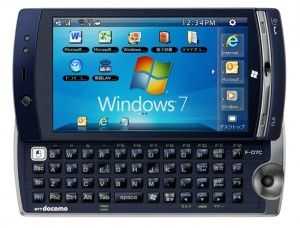 I'm a little confused though. Fujitsu know what it takes to make a ultra mobile PC so they should know that a 4″ screen makes Windows nearly unusable at any resolution and that a 2hr battery life doesn't impress anyone. I wonder what the target market here is.
Hot-desking Japanese execs come to mind but there's probably another reason. Win7 provides good encryption so perhaps this was built as a secure storage device? Perhaps its main purpose is to be docked and used with screen, keyboard and mouse. I suspect there's a big customer involved somewhere here. I mean, UMPCs are niche but this looks to be extremely
Take a look at the thread running on another pc/phone article (Magic W3) from last week. There's interesting information about a possible 600Mhz clock speed (that would be another stumbling block,) the impressive 1.3W TDP X86 platform and the expected price.
What do you think? Personally I think it will be an interesting test for Oaktrail but you have to wonder why Fujitsu partnered a Ti OMAP platform with the Oaktrail platform when Intel, theoretically, have one phone platform in production and another one due at the end of the year.
Press release is available here.
http://www.fujitsu.com/global/news/pr/archives/month/2011/20110721-01.html