Software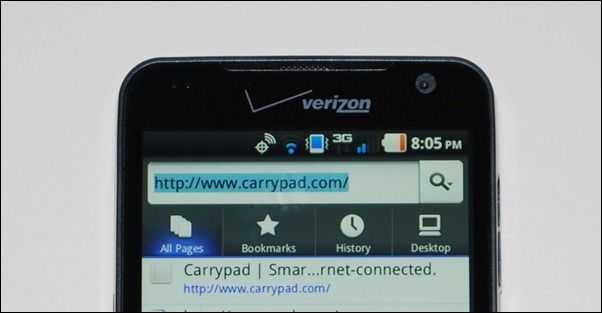 The LG Revolution is running a custom build of Android 2.2.2. Things have been changed, but the changes leave the OS much closer to a vanilla Android 2.2 experience than a near-total reskinning like HTC did with the Thunderbolt.
This phone is infused with Bing search instead of Google. For the most part, this doesn't affect the overall experience; you still have all the Google apps you'd expect, but when you hit the search button on the Home screen, you'll be greeted with a search box that returns Bing search results instead of Google. I've always found Bing to be an inferior search engine (pro-tip, you can easily download a Google search widget to easily get around the Bing search). It's just annoying that as a user you don't get to choose which search engine the phone uses from its native search.
Google Maps doesn't come pre-installed (I guess they expect you to use the Maps section of the Bing app), but praise the maker that there is absolutely nothing stopping you from installing the infinitely superior Google Maps app and making use of all of its free navigation goodness.
Lock Screen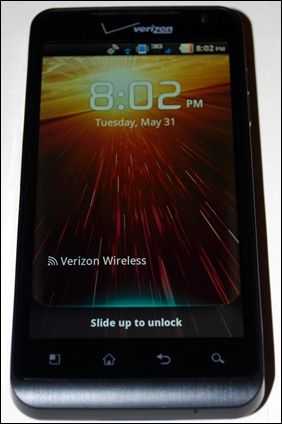 The lock screen shows you a large clock as well as the date. To unlock the screen you slide upward, but the area in which you can actually grab the slider is completely unmarked except for a poorly done teal glowing/pulsating highlight that animates in literally 6 or so frames (ie: it looks bad).
Actually unlocking the phone has one really annoying problem. There's a short window between when you hit the unlock button and when the screen actually comes responsive to touch. 90% of the time, I reach to grab the slider to unlock the phone within this window. The result? My finger slides up the screen but the phone doesn't respond. Maybe it's just me, but I find this particularly bothersome as it takes a few more moments for me to realize that the phone wasn't paying attention, then I have to repeat the gesture. Sometimes it takes three swipes to actually get the phone unlocked (two swipes that don't respond, and one that does).
I attempted to fix this with a third-party lockscreen from the Android Market, but it seems that the unresponsive-screen window doesn't have anything to do with the lockscreen software and the issue persisted.
The amount of time actually wasted doing this is relatively small, but the annoyance level is quite high because it happens almost every time I attempt to use the phone.
When I do decide to wait long enough that I won't have to try the unlock gesture twice, the part on the screen that actually animates when I drag it never flies off the screen with satisfaction. There's always some amount of stutter in the sliding animation once you let go of it, as though the phone gods are deciding if you've thrown it with enough force for it to unlock, or if your feeble fingers weren't able to flick with enough strength to even deserve having the phone unlocked.
Occasionally you'll get a false-negative when attempting to unlock. This is where you throw the unlock slider and want to unlock the phone, but for one reason or another, it didn't interpret your gesture correctly to it doesn't unlock and you have to try again.
Home Screen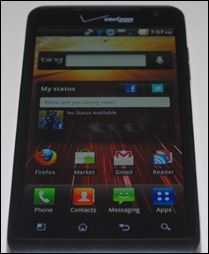 Despite the number of paragraphs above devoted to unlocking the phone, actually getting it unlocked takes just a few seconds, annoyances included. Once you do manage that task, you're greeted with the Home screen which is where you'll be spending much of your time.
The Home screen is relatively untouched from what'd you'd expect from default Android with the exception of a dock at the bottom of the screen that holds 4 icons (one of which – the 'App' icon – cannot be customized) that stick there regardless of which page you're on, a la iOS.
There are 7 screens upon which you can add widgets or app icons to, the default screen is the central page which you can return to at any time by pressing the capacitive home button at the bottom of the phone.
It bewilders me that they include this function without actually telling you about it, but you can jump to any screen by using a pinch gesture to zoom out and look at all 7 screens at once. This function can be very sluggish and I don't think you'll prefer to use it over swiping to the other screens because of that fact.
As per usual, the widgets that LG has included are mostly massive wastes of space and you'll want to be rid of them as quickly as you would a freshly lit firecracker. If you truly do like widgets, I'd suspect that LG doesn't have any enthralling exclusives, so you'll probably end up in the market getting your favorites anyway.
When you pull down the notification drawer, you'll see a handy radio toggle menu which, with one press, will allow you to change the system volume between sound and mute, as well as toggle WiFi, Bluetooth, GPS, and airplane mode.
The toggle menu is useful but redundant if you decide to put a toggle widget directly on your home screen. They really ought to give you the option to remove it if you'd like, in favor of showing more notifications in that space.
Below this handy grouping of toggles is a big grey bar with the text "Verizon Wireless inch on it, and unlike the toggles, it serves no purpose whatsoever. This bar takes up the same amount of space as one notification, and it's annoyingly always present.
Just in case the Verizon logo that's imprinted above the screen wasn't enough of a reminder that you've sold you're soul to that particular carrier, they've opted to give you a nice space-wasting remind within the notification menu as well. Branding bothers me to some extent, but branding that actually wastes screen real estate is just plain annoying. Unfortunately this isn't unique to the LG Revolution… it would appear as though Verizon requires something similar from all Android phones on their network.