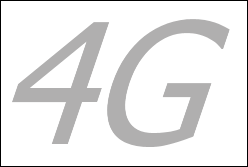 We're not into Apple rumors here at Carrypad, but what we are into is informed speculation. Join us for some healthy analysis about when and how Apple will make the move to 4G.
Based on Apple's Q3 sales figures that were just released today, it's clear that Apple is doing extremely well, even without a single 4G product in its stables.
This is interesting because 4G is one of the only areas where the iPhone and iPad are behind, rather than being ahead of, or at least on-par with, the competition.
For all intents and purposes, let's consider HSPA+, LTE, and WiMax all '4G' networks, as they're all capable of delivering speeds that are well beyond earlier 3G connections.
The Competition
Verizon has now launched three 4G (LTE) smartphones, and is poised to launch at least one more (the Droid Bionic) toward the end of this summer. They also have the 4G enabled Samsung Galaxy Tab 10.1, as well as the Motorola Xoom which is supposedly going to be the recipient of a 4G hardware upgrade at some point. Additionally, they've got a 4G MiFi wireless hotspot and 4G USB modem. [See this article for a roadmap of Verizon's upcoming 4G smartphones and devices].
AT&T has three 4G (HSPA+) smartphones currently launched, along with a 4G USB modem.
Sprint has fourteen 4G (WiMax) devices available. They've got smartphones, tablets, laptops, mobile hotspots, and USB modems. Though WiMax technically has the capability to support 4G speeds, the research I've done has indicated that Sprint's WiMax is sorely lacking in speed, but I'm still putting it on the list because the tech that supports high speeds is already in place in these devices.
T-Mobile has claims to have twelve 4G (HSPA+) devices. They have 7 smartphones, 2 tablets, 2 USB modems, and a mobile hotspot.
What Form Will Apple 4G Come In?
Because Apple currently makes iPhone 4 and iPad 2 models for both AT&T Verizon, it holds that we'll continue to see those two carriers supported for upcoming tablets and smartphones from Apple.
For the short term, AT&T is relying on HSPA+ to provide 4G speeds to its line of HSPA+ equipped phones; the company often sticks '4G' to the end of the phone's name to indicate the additional speed (even if some don't consider HSPA+ to be '4G' from a technical standpoint). In the long term, AT&T is planning on moving in the LTE direction starting this year.
Verizon jumped directly to 4G in the form of LTE, and they seem to have the best 4G speeds so far.
With the two currently supported carriers either already using LTE or eventually moving to LTE, my best guess is that Apple's first 4G devices will be LTE compatible rather than WiMax or HSPA+, though as you'll see below, we might end up with a combination of these.
Why Doesn't Apple Already Have 4G When Others Do?
The technology for Apple to launch their devices with 4G exists, but I believe two factors have held Apple back so far.
Coverage
It doesn't make sense for Apple to fork over additional money for 4G chipsets if the coverage isn't already there. If Apple launched a 4G (LTE) iPhone 4 when it announced the Verizon iPhone back in January, it wouldn't have had a big demographic to sell to because a relatively small number of areas where covered at the time. Passing on the price of 4G hardware to all customers, when only a small portion are actually in 4G covered areas, wouldn't be good for Apple's bottom line. It made more sense for them to keep the price attractive until 4G LTE sees widespread coverage.
Battery Life
Battery life on existing 4G LTE devices is still much shorter than 3G devices. I've been using the HTC Thunderbolt and LG Revolution and both 4G equipped devices from Verizon have had a hard time providing me with usable all day battery life. Battery life is a major concern for Apple, and I know that they aren't willing to release a device without all day battery life under typical use.
With every release of the iPhone, Apple has increased performance and battery life. Releasing a 4G iPhone before the technology can come down to a reasonable power consumption level wouldn't be acceptable for Apple.
When Will it Happen?
The real question is not if, but when. Apple has been wildly successful with the iPhone and iPad, even though the market is already brimming with 4G devices, but that won't last forever.
Ideally, Apple would launch a 4G iPhone and 4G iPad when the two above factors, coverage and battery life, align. Unfortunately, Apple is now being pressured by all of the other 4G devices on the market.
Verizon's 4G LTE forecast indicates that they hope to have their entire 3G network area covered with 4G LTE coverage by 2013.
AT&T is launching its first 4G LTE coverage areas this year, but the rollout is going to take time, and they'll most likely be lagging behind Verizon in 4G LTE coverage in 2013.
The iPhone 5 is expected to be released in 2011, and the iPad 3 likely won't come until 2012. In terms of coverage, the time is not ideal for Apple to launch a 4G iPhone 5 or 4G iPad 3.
I think that Apple would rather wait for two more product generations before releasing 4G devices (so that power consumption can come down and coverage can increase), which would mean 4G LTE compatibility with the iPhone 6 and iPad 4, but I doubt that they can wait that long.
An interim HSPA+ iPhone 5 might be more practical for Apple, but it would leave Verizon users in the rain as Verizon has no HSPA+ infrastructure.
A compromise could be for Apple to release a 4G (LTE) iPhone 5 on Verizon and a 4G (HSPA+) iPhone 5 on AT&T. I would expect that release in 2011, but the iPad 3 will likely not be released until 2012. At that time, LTE network coverage should be more favorable for AT&T, and Apple may launch a 4G (LTE) iPad 3 for both networks, then eventually bring LTE to their AT&T iPhone offering with the release of the iPhone 6 in 2012. This is a bit confusing in text, so I've put together a timeline (apologies if the large timeline runs off the screen on mobile browsers!):

Some might see the release of a separate HSPA+ and LTE iPhone 5 and iPad 3 as unlikely, but it should be considered as Apple currently has two separate versions of the iPhone 4 and iPad 2, one for AT&T's HSPA 3G network, and one for Verizon's EVDO 3G network.
Though the LTE coverage is not quite optimal for the upcoming iPhone 5, Apple can't ignore 4G as it's starting to be expected from the latest phones (and every major US carrier is pushing the buzz word like their life depends on it). I can't see Apple releasing the iPhone 5 without 4G, whether that be HSPA+ or LTE.
I would certainly reconsider purchasing the next iPhone if they release it without some form of 4G. How about our readers – does 4G availability influence your smartphone purchasing decisions?