As you may be aware Jerry and I are trying to get by in the Enterprise space with only our tablets and no Windows based laptops. Jerry's using the Acer Iconia Tab and I am using my Asus Eeepad transformer with keyboard dock. Jerry has a few posts up on his experience so far. Week one using the Eeepad transformer as my only business "personal computer" was pretty successful. I had a pretty varied week which included working from home, working on the road at a conference and during site visits and of course in the office. My home setup includes a Logitech DiNovo keyboard and a Logitech traveller mouse, both bluetooth devices. I have wireless internet at home for connectivity and use a mix of apps for productivity.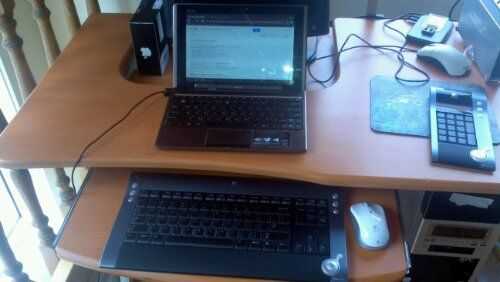 My first near-stumbling block was when I had to print something. I can't use a solution such as Google Cloud Print as it requires a PC to be turned on, connected to both the net and the printer. Since I'm trying at all costs to avoid even so much as starting up a PC, that wont work. I did a bit of searching and found the best solution to be a paid app called PrinterShare [free version here]. As it often goes, a lot of the best apps are paid ones, and while I try to get by with free apps as much as possible, sometimes there's no choice. Something I liked about PrinterShare is that you can download the free version and run a test print to make sure it works with your setup before you part with the cash for the fully enabled version. This saves buying something, downloading it only to find it doesn't work with your particular setup. PrinterShare installed without a hitch and is a very functional app. It printed without issue to my Epson MFD and could even print good quality photos on the various papers that my Epson can handle.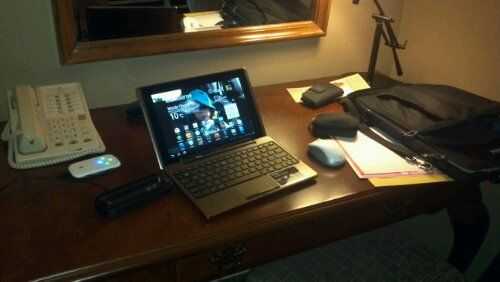 On the road I used a Mifi style portable wireless broadband device for connectivity. While I like the Mifi for being able to connect multiple devices at once, I did look on with a little envy at my iPad toting companions, who simply fired them up and got on the net (they had 3G models). I think once the Eee Pad Transformer is released with 3G I might upgrade. I did the find the extra weight of the keyboard dock a bit annoying, as most of the day I didn't need the keyboard, and when I did at night I could have just as easily used my foldable keyboard. I did take along my bluetooth mouse as I find it easier to use than the touchpad when I'm using the tablet like a laptop.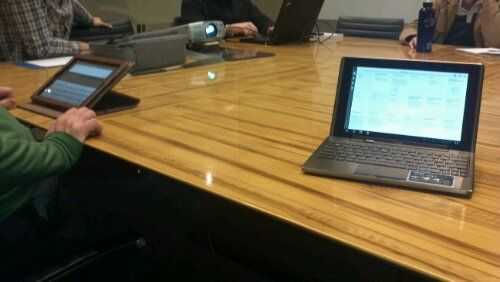 As you can see in this photo the tablets outnumbered the laptops at this meeting. I used Evernote and my calendar for this particular presentation while the iPad user stayed in his notes application. Again I found the keyboard handy but not essential, and something like the Eee Pad Slider would be a better device for me in this situation. One failing of the Transformer is that it can only output to HDMI and when I needed to show something on the projector I couldn't just plug in. Only one of the work projectors has HDMI so 9 times out of 10 I won't be able to project from the tablet. I got around it on this occasion by emailing the slides to the laptop on the projector but it wasn't pretty. The iPad had a cable which allowed it to hook up via VGA so it scored points on the Transformer this time. Jerry has shown us that it's possible to get from HDMI to VGA-out with adapters, so that's one possible solution to this issue. Stay tuned for more updates next week.