I'm surprised it took this long. An Ultrabook micro-site is now available on the Intel web site.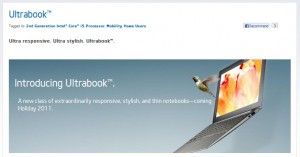 Ultrabook appears to be a important word in Intel. They've trademarked it (in the U.S.) and stated that it will cover 40% of notebook sales by end of 2012 so why it took so long is a mystery. It's also a mystery why there's a lack of information. I hope it's going to be padded out in the weeks leading up to IDF.
How about a section for equipment designers, a full 'certification' list, a section for products [I believe we've got that covered!] and even promotional videos.
For the time being, it's just a site to keep an eye on for changes. We'll let you know so check back here regularly or track us on Twitter.