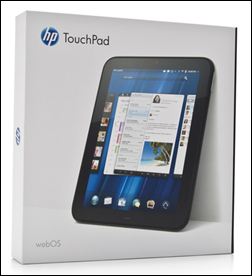 I was literally in bed when I caught wind of this, and now I'm sparing myself a few additional minutes of rest to bring you this news right away (no, I didn't have time to get dressed – yes, this is that urgent). Our favorite deal-a-day site, Woot.com, has the HP TouchPad for just $379.
Why is it important that you be the first to know? Because Woot offers a deal on one single item every day, and that means that come tomorrow, this deal will be history. Furthermore, they've only got a limited (and unannounced) stock, so it could sell out before tomorrow even rolls around.
This is a brand new unit packing a dual-core 1.2GHz Qualcomm Snapdragon APQ8060 CPU. It's the WiFi only version of the device and it comes with 16GB of memory built-in. Here's what comes in the box:
HP TouchPad (16GB, WiFi-only)
Cleaning Cloth
HP TouchPad AC Charger
MicroUSB Sync Cable
Getting Started Guide
Navigation Guide
You can check out all of the HP TouchPad specs in our device database before considering the purchase.
The $379 price tag only beats what you'll find on Amazon or direct from HP by $20 right now, but, that's because HP is currently offering $100 off of the TouchPad from August 5th-7th. Once this period is over, HP and Amazon will go back to charging $499 for the 16GB WiFi-only TouchPad, which makes Woot's deal that much better.
Though the TouchPad initially launched to some rough reviews, a recent update has brought it up to a more respectable level of performance.
Not long after the launch of the WiFi-only unit, HP announced a '4G' version of the device for use on AT&T's network. This version includes a higher clock on the CPU, which brings it up to 1.5GHz. HP has been unclear whether or not they would bump the speed on the WiFi-only units through a software update or a hardware change at some point down the road.