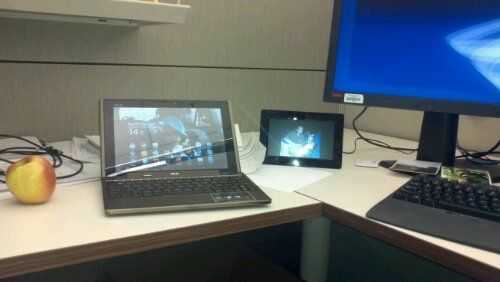 I've been inspired by Jerry to make the move to using only the Asus Eeepad transformer at work. I'll be using only my Atrix and Eee Pad Transformer for all business related activities, no PC at all. I am passing my Vaio down to my wife to replace an old netbook and the budget doesn't stretch to a new laptop. Actually it's pretty slim pickings trying to find a true replacement to the Vaio TT anyway at the moment.
My needs are similar to Jerry's actually in that I have a new baby on the way, a new house, a netbook past its expiry date and recent purchases of both the Eee Pad Transformer and the Atrix + lapdock.
As I mentioned before I considered a MacBook Air, another Vaio, or perhaps a Windows tablet; cost, portability and battery life are all competing priorities for me. So following Jerry's lead I thought: why not see if either (or better yet, both!) of us can do it.
This has partly been facilitated by work putting in some software that will allow me to access email and my work calendar on my Android devices, natively rather than having to use webmail or some remote access solution. In the wider enterprise world it's proving hard for IT to resist the demands of business bringing in iPhones and various tablets. My workplace is no exception so we kicked off a project to put in a solution to meet the mobile needs of our workforce. One of the key requirements was to work across all platforms which was great because even though iOS products outnumber others 5 to 1, those of us with Android devices can now connect to business systems including email.
Today was day one and it was fairly successful. Polaris Office worked well for Word documents and the PowerPoint I needed to edit. Evernote is my business app of choice for meeting notes, tasking and brain dumps and I used Thinking Space and sent the mindmap to Evernote as a picture so that I can keep evrything organised and in the one place. I occassionally felt a pang for a laptop but I think this was separation anxiety as there was no actually need for it in al the work I did today. Let's see how it goes tomorrow.