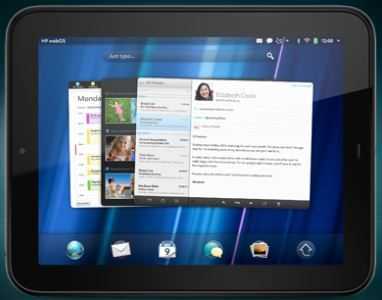 With specific regard to the WebOS Hardware group, that organization and its supporting infrastructure and supply chain will be shutdown in the fourth quarter of this year. WebOS Software development will continue. I would fully expect product support, SW updates, and the normal routine you would expect for HP products for some time to come. In the year to year-and-a-half before anything specific becomes of HP PSG, Apotheker and Lesjak claim that HP will continue business as usual in the effort to make PSG successful in the interim. I would have to believe that some number of TouchPads made their way into Enterprise organizations and I would think that HP will not want to alienate those customers, if they do not take HP up on their refund offers. Regardless, HP feels that WebOS as an operating system is a success, but the attempt to deliver ODM hardware and build an ecosystem containing an OS, hardware, and apps, was not. In fact, Lesjak indicated during the Q&A session that about $830 million in loss could be "directly attributed to Palm" [by this I assumed that she meant the Palm acquisition and failure to realize profit to offset the cost within a defined period of time].
An interesting statement that the CEO and CFO both made is that the strategic intent of the TouchPad was for it to be the "clear number two choice for tablets". This creates a virtual eruption of of questions that are obvious enough that they do not need to be articulated here. What could be said is that there is one obvious fallout from the HP firesale that occurred over this weekend. While the firesale does not represent the norm, it is apparent that coming out at the same price as the iPad is not enough to compete. Devices running other mobile operating systems need to be priced significantly lower; my guess is they need to be around $299 and with specs comparable to the entry level iPad.
Yeah, I know… this price-point may just be impossible for tablet manufacturers to get down to. If that is the case, it could mean that we are looking at a repeat of the ultra mobile PC timeline all over again. When the tablet market started, I assumed that the price range being roughly $500 less than what UMPCs sold for would make the entire market take off, and that the tablet device category would take root with the general consumer. But if HP is walking away from the tablet business, I certainly cannot see RIM sticking with it for much longer. And just about every other major manufacturer who is producing tablets now, also chose to abandon UMPCs or Tablet PCs, produces categories similar to tablets in form-factor, rather than sticking it out with those device-types. While there are some great tablets on the market now that have received good reviews, the fact is that none of the manufacturers would consider the sales numbers for their tablets to be indicative of a categorical hit. Subjective observation of media outlets and various forums would seem to indicate that the original Samsung Galaxy Tab might be the closest to that mark.
What all of this may mean is that we may not have seen the last tablet firesale. While it is great to pick up devices we love on the cheap, it is not great 2 or 3 years later when there are no new devices in that product category. I still mourn the abandonment of the handtop/palmtop form-factor [another device category that HP championed back in the day]. Hopefully, one of the strategic options that HP is considering will bear fruit. The licensing of WebOS to hardware OEMs seems to hold a wealth of plausible scenarios. Given Google's recent acquisition of Motorola Mobility, I have to believe that the principle Android handset makers are not going to leave themselves exposed to too much risk in terms of their product portfolio. I realize that all of those companies have publicly stated their support for the acquisition, but again, it is a matter of risk exposure, and diversifying a company's offerings is one sure way to reduce the impact of that exposure. WebOS handsets from HTC and LG and Samsung seem possible; tablets, too. Apotheker said that they would explore every option with regards to PSG in general, and WebOS in particular. I wonder if one of those options will be making WebOS open source? While I do not consider this scenario likely if the PSG remains part of HP, maybe it would be considered by a separated PSG?
Of course, it is also possible that the division will be put up for sale, and then it is anybody's guess as to who might buy them. Dell and Lenovo are the next closest competitors in terms of market share in personal computers. I do not see Lenovo wanting to get into the business of fielding their own mobile OS, but I could see Dell taking that challenge on. Acer also wants more market-share in PC sales, and the company got rid of a CEO earlier this year for not being successful enough in the mobile space. Regardless of what becomes of the PSG, for right now, the fate of WebOS is tightly coupled to HP's PC division. The best hope for WebOS and those of us who love it may be for the alternative OS to be broken free of those chains and allowed to stand on its own.
Pages: 1 2