Not satisfied with letting Samsung steal the spotlight completely today, HTC had scheduled a number of media events around Europe where they revealed two brand new Windows Phone 7 devices, both of which will run the oft-previewed (and enjoyed) but yet to be released, Windows Phone 7.5 (aka Mango). HTC has a knack for making beautiful hardware and these devices don't look like they'll disappoint in that respect. The real question is whether or not WP7 Mango is enough to keep people interested.
HTC Titan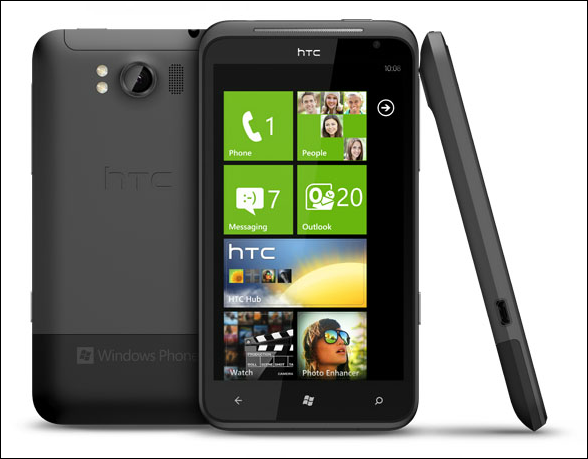 Just based on the name alone, you know I'm going to rip on this phone for its screen size; before that let's at least look at what it brings to the table:
WP7 Mango
Single-core Snapdragon MSM8255 @ 1.5GHz
512MB of RAM
4.7 inch capacitive LCD touchscreen @ 800×480
8MP rear camera (BSI sensor, dual-LED flash), 1.3MP front camera
720p recording-capable
Micro USB
16GB capacity
HSPA+
1600 mAh battery
160 grams (5.6 ounces)
9.9mm thick aluminum body
So yeah, the phone looks great, it's quite thin, and though I haven't held it myself, I can tell from hands-on reports that it is going to have that classic HTC hardware build-quality to it.
And while WP7 doesn't use the same interface paradigms as Android, there's still a lot of issues with a 4.7 inch and near-16:9 screen which you can read about in detail here.
It seems like people are finally starting to catch on to what I'm saying about these huge phones. This Is My Next makes the following note:
…although the Windows Phone Metro UI keeps things relatively centered and easy for one-handed usage, it's still not necessarily easy to reach the top of the screen with your thumb when holding the device in one hand, and accessing the power button required a bit of in-hand shuffling in order to climb a finger up to the button located along the top-right edge of the device.
That's also a mighty big screen for the 800×480 resolution; it might not look as crisp as some of the other devices that have launched or are launching soon (ie: iPhone 4 [960×640], Atrix [960×540], Galaxy Note [1200×800]).
As seen in videos of the phone taken by Engadget and This Is My Next, the single-core CPU running at 1.5GHz runs Mango very smoothly and I that doesn't surprise me as the 1GHz HTC Surround that I played with last March was able to run the WP7 UI with impressive fluidity.
This is My Next has a massive gallery and a hands-on video of the Titan, take a look.
HTC Radar
The Radar appears to be for people like me, who actually want to be able to use their phone effectively with one hand. Instead of the classically too-big 4.3 inch screen, they've actually brought this one down to 3.8 inch which I'm quite thankful for. The annoying part, however, is that this smaller phone offers lesser specs, so the idea of top end phones being required to have giant ergonomically crippling screens is still firmly in place. But hopefully we'll see a lesser price than the Titan as well.
WP7 Mango
Single-core Snapdragon MSM8255 @ 1.0GHz
512MB of RAM
3.8 inch capacitive LCD touchsceen
5MP rear camera (BSI sensor), front facing camera (currently unspecified MP)
8GB capacity
720p recording-capable
1520 mAh battery
137 grams (4.83 ounces)
The Radar actually looks a lot like a mini HTC Flyer, and it doesn't have a user-replaceable battery, which is a point of contention for some but not all.
Viewing angles on the phone look really good and even if the contrast ratio isn't as ridiculously impressive as the Galaxy Note or Galaxy Tab 7.7's AMOLED displays, I've found that the high-contrast visual design of WP7 negates that problem by a large degree (of course you'll probably be quite upset if you try to watch any movie with a dark scene on the phone).
Like the Titan, the Radar's rear camera uses backside illumination technology which helps capture more light for better low light performance (an area where smartphones are often extremely weak). This is great news because the HTC Surround's camera took some pretty muddy shots in low light. The BSI technology is one of the reasons why the iPhone 4 still takes some of the best pictures in the smartphone category, so I welcome seeing it come to more phones.
This is My Next also has lots of great shots of the Radar as well as a hands-on video. If you're interested, take a look.
HTC says that the Titan and Radar will become available beginning in October with initial releases in Europe and Asia. Pricing hasn't been announced and it's uncertain when/if they'll see a US release, but we'll keep you posted.
Thanks to Engadget and This is My Next for providing some of the information contained in this article.