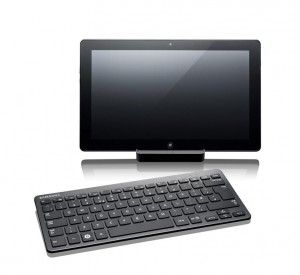 Watch reports on the Samsung Series 7 Slate PC very carefully if you're interested in Ultrabook performance because as mentioned before, it's a Ultrabook without the keyboard. OK, it might not have a few of the Ultrabook features like Anti-Theft and WiDi but the processing platform is the same.
I had some hands-on with the Samsung Series 7 Slate PC at IFA last week and was impressed to see it blow through 100K in a CrystalMark test. That puts it at about 5X the score that a netbook would get and about 50% of the speed of the quad-core Intel Core 2 Q6600 2.4Ghz desktop I'm using right now. In summary, a very usable amount of processing, disk and memory speed that is unlikely to keep you waiting….and all in a platform that runs between about 6 and 25W of power usage. Amazing!
The test results and notes are available here and I'd advise you to take a look.  I've also embedded a video below that gives you an idea of how small this power-house is.  At 890gm it's quite the feat of engineering.