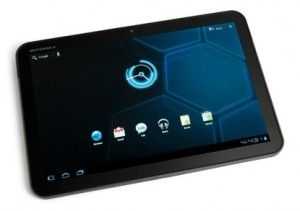 Every once and a while, our favorite deal-a-day site — Woot.com — offers up a nice treat for tablet fans such as ourselves. Today they've got the very first Honeycomb tablet to hit the streets, the Motorola Xoom, for a reasonable $349.
This is the WiFi-only 32GB version of the Motorola Xoom. Aside from lacking the components that facilitate WLAN capabilities, and a silver metalic back (instead of a black rubbery one), it's nearly identical to the carrier version. Here are the vital specs:
10.1″ screen @ 1280×800
Dual-core Nvidia Tegra 2 CPU @ 1GHz
1GB of RAM
Android 3.1 Honeycomb
5MP rear-facing camera, 2MP front-facing camera (720p video capture)
WiFi a/b/g/n, Bluetooth, GPS
Micro HDMI, Micro USB, 3.5mm headphone jack, AC adapter (cannot charge through Micro USB)
32GB capacity
731 grams
See even more detailed specs and info at the Motorola Xoom tracking page in our mobile device database. We've also got a gallery full of Motorola Xoom photos if you're interested.
After playing with the Xoom a while back, I have to say that I was underwhelmed by it's performance. Updates to Honeycomb helped, but it was still far too buggy for my taste. I also looked at the unit as a video editing platform, but came away with the same sense that I had with Honeycomb — they need time to mature.
Next to Amazon's just announced $199 Kindle Fire, I can't say the Xoom is too appealing right now. Still, you may be itching for a 10″ tablet rather than Amazon's 7″ offering. If that's the case, Woot has a good deal for you. Their $349 price tag is $109 (24%) less than you'll be able to find it on Amazon at the moment, and $150 (31%) less than you can get it directly from Motorola!
Go check out Woot.com to get in on this deal. Don't forget, Woot sales are only good for one day, which means this deal will be gone forever at 1AM EST (and has a chance of selling out even before that time)! Good luck.