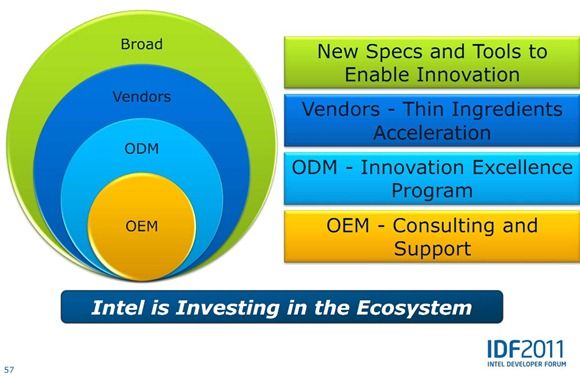 There's much more to Ultrabooks than "Thin, Responsive and Secure." In terms of laptop design the Ultrabook is one of the biggest overhauls ever. At IDF last week I learnt just how complex the Ultrabook design is and why Intel is calling-out to the ecosystem to help create the best Ultrabook components and designs.

The Intel Core CPU platform is only a small part of the design and as such, Intel only has direct control over a small part of the overall product. They know what needs to be done though and the IDF technical session were all about rallying the troups. Here's an overview of the challenges and links to more detailed information. If you're involved with the Ultrabook design process we'd love to hear your comments.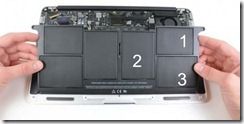 Battery – Non-removable Li-Poly batteries of 36-41WHr designed to fit around components in the design is something we've only seen in UMPCs and Tablets up to now. The minimum battery life target of 5hrs creates efficiency challenges.
Storage and Responsiveness – SSDs play a big part in helping the Ultrabook boot quickly and respond quickly. Intel recommend a wake to keyboard (from standby) time of under 7 seconds.
Chassis Design – With a design limit of 21mm for devices 14" and bigger and 18mm for smaller devices, it limits how the Ultrabook can be designed. In terms of convertible designs, Intel is suggesting it should be done with only a 2mm size penalty.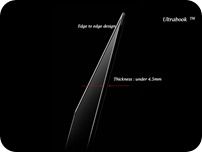 Screen – Thickness, bezel size, viewing angles, pixel density and power requirements are all critical to the design. New manufacturing and power-saving techniques are required. LG Display present a number of advances with their Shruriken solution for 11.6, 12.5, 13.3, 14 and 15.6" screens.
Keyboards – Back-lights, spill resistant layers, key-travel and key shape are restricted in the Ultrabook design. 3.5-4mm means keyboards have to be re-designed.
Sensors – Although we haven't heard much about sensors, Intel is recommending  a 720p Skype-standard camera, accelerometer, GPS, ambient light sensor and advises designers to consider a proximity sensor (for power-saving) along with compass, gyroscope and barometric pressure reader.
And all the above needs to stay within heat restrictions!
What this means is new design techniques, new components, new production and manufacturing techniques and on-top, the best software. The transition will take a few years but lets make one thing clear – when the ecosystem is up to speed, prices will drop. Investment is required today for a better PC in the future
You can read detailed information on this through PDFs that have been made available by Intel in the IDF Technical Session Catalogue. Go here and click on 'Technical Session Catalogue' and Search for 'Ultrabook' to find the following presentations:
Ultrabook™ System Design Requirements, Solutions and Ecosystem Synergy
Ultrabook™ Mechanical and Thermal System Integration
Dynamic Thermal and Power Management: Optimizing for Ultrabooks™
Next Generation Display Technology for Ultrabook™
PC Client Platform Innovation
Ultrabook™ Power Management