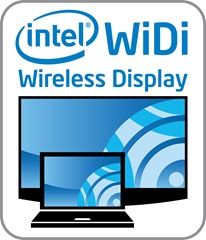 I believe Intel Wireless Display (also known as Wi-Di) could be one of the best 'value-add' technologies Intel has implemented for years. Not because of any technical skill (it's an extension of the Wi-Fi Direct 'soft AP' standard implemented in their Centrino network cards and Core processors) but because it adds capability to the PC platform that makes real sense and doesn't require any extra interfaces or radios. Wireless display is going to be something that, once you've used it, you probably won't wouldn't want to lose. Expect to see this on most Ultrabooks next year.
Intel have been working on this for a number of years now [good background story here] and although it's available in Ultrabooks and other PCs based on Core architecture, it's also coming to Cedar Trail and Medfield as an option.
Wi-Di supports up to 1080p resolution over Wi-Fi at somewhere between 10 and 20Mbps if the system has a compatible wireless card in it and if the receiving end also has the capability, not just via a set-top box receiver but as I found out in a chat with Intel's WiDi product manager Kerry Forell, it could be coming built-in to TVs too.
It could be something to do with the 15 million laptops that have been shipped with Wi-Di capability that the product is developing quickly and that TV chipset manufacturers are starting to license the technology in products that should get into TVs, set-top boxes and even gaming consoles. You can already buy Wi-Di receiver boxes from Logitech, Netgear, DLink, Belkin, Iodata and Buffalo but more is coming soon. More capability too.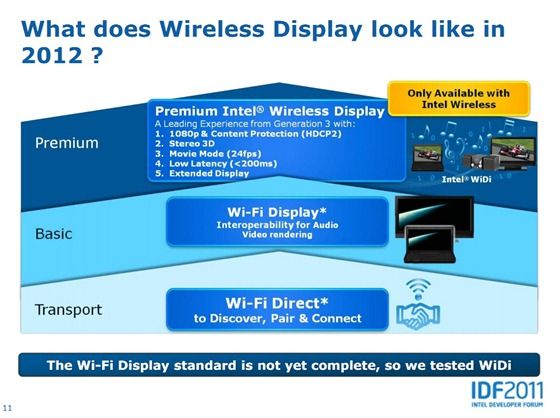 The extended display option is interesting and I took a closer look at the capability at a demonstration in San Francisco
WiDi on laptops is nice but when it gets to tablets and phones, its something that fits into just the right scenario. We've been talking about wirelessly throwing content onto displays for a number of years now but if WiDi gets some traction, it could fit perfectly with Intel-based tablets and provide them with important value-add.
Alternatives?
WirelessHD is a separate network technology supporting 10-28Gbps technology for lossless video, audio and control. Implementing another wireless standard in a mobile device could be a power-drain and pricing issue.
Wireless Home Digital Interface (WHDI) provides 'up to 1080p' rates and focuses on low power consumption for mobile devices. It uses a separate networking technology to Wi-Fi
More technologies are available. Here's a good reference.
Compatibility.
Want to know if you're Wi-Di ready. Take a look at this page.