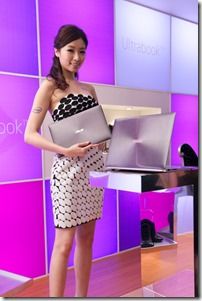 In this article I'll be taking a different stance and presenting an argument against Ultrabooks.
Why would a pro-Ultrabook web site and a pro-Ultrabook author do this? Simply because I want you readers, and myself, to get a better perspective on the discussion going on around Ultrabooks. All opinions are valid and to make a decision, you need both sides of the story. The more discussion we have, the more we understand. Fingers crossed that Intel and a few OEDs and OEMs read this too because it's exactly what they need to be thinking about.
I have tried to keep this article factually correct. Your input is encouraged in the comments section below.
Let me start with this…
The Ultrabook is a fashion item designed to allow manufacturers to decrease costs and charge a premium for a style-focused, sealed-unit laptop. It ignores flexibility and compromises on performance and battery life.
Exhibit number one – A Core i3 laptop weighing 1.3KG/2.7lb and costing just €450 / $500 – half the price of an Ultrabook. Next question?
You want gaming graphics? Ah, there's another problem. The HD 3000 graphics included in Ultrabooks is nothing compared to a discreet graphics solution. Even a cheap graphics solution like the Radeon 6630M found in a €700 ThnkPad Edge E320 with a fully-clocked Core i5 will vastly out-perform an Ultrabook with Integrated Intel HD 3000 graphics. The weight penalty is a small 500gm but it comes with a much bigger battery.
The Ultrabook is one big corner-cutting exercise.
The GPU is the #1 case in point but for another, look at the connectors. You'll be fumbling with micro and mini ports, assuming you've remembered to bring, or haven't lost, the adaptors. Want HDMI and VGA? You'll be lucky to find that. Full size SDXC card that allows photographers to quickly import photos? Not many Ultrabooks support that.
The CPU is cut-down too. Fancy a 1.3Ghz weakling in your laptop? OK, we're not talking about netbook levels of processing power here because the Intel 'Core' CPU is an advanced processor but a desktop CPU it is not. And don't fall for that Turbo mumbo-jumbo either. Only the Core i5 and Core i7 versions have the turbo feature but even then, the thermal 'headroom' in these tight devices means you have just seconds before the core heats-up and the clock is knocked back down.  The fully-clocked Lenovo X220, Toshiba R830 and Dell Latitude E6220 show how lightweight devices can run fully clocked mobile processors with very little weight compromise. And so on to the next cut-down component – storage.
A 320GB hard drive is standard on most $250 netbooks these days. On the $1000 Ultrabook, you'll get 128GB. Faster, yes, but how long can you survive with just 100GB of storage space? A full drive is a dead drive.
Because of the push for thin and light, corners have been cut in the battery department. Battery capacities in Ultrabooks are down below netbook levels yet because there's no space for standard size batteries, each one need to be designed separately for each device. The cost, obviously, goes up and you'll have to pay for it. Combine the Ultrabook platform that can suck 25W with the 35Wh battery capacity found on the Asus UX21 and you'll be shocked at sub-2hr battery life figures. Want to carry a spare battery? Sorry, these mini power-packs are sealed-in. Yes, you'll read about a 13" Ultrabook running idle for 8 hours but if you start using the device in any sort of productive way you'll be running it at 3X-4X the power it took to idle. Be very careful of manufacturers battery life claims.
I mentioned sealed-in batteries above but that's not all that's sealed-in. Even if you do manage to get the device apart (by invalidating your warranty) you'll see soldered flash storage and memory. There are no upgrade possibilities at all with Ultrabooks. When the disk fails, the laptop is ready for the dump. The same applies to memory – if it fails, you've lost your Ultrabook. Throw-away laptops aren't good for the user, aren't good for the environment.
This sealed laptop approach is something new for manufacturers and although it might result in cheaper production costs over time, the early costs will be high as new, expensive and low-volume parts are sourced. Ultrabooks will remain expensive to produce and with volume predictions dropping to 20% (from Intel's original 40% of the laptop market) the costs could remain high, possibly never reaching the tipping point needed to reap the rewards of a shorter production line and lower part count. You'll be paying that early adopter premium for a long time.
The MacBook Air is a good example of how an Ultrabook can work but it's not something that the PC can't copy without looking clumsy. the MBA cuts corners just like the Ultrabok but it's produced by a company that has the marketing momentum and brand to push it through to a large enough customer base that is already primed for higher costs and style-focused devices. The MBA is cool. Copying the MBA is the Anti-Cool. In many cases, OS X is better optimized than the PC-generic Windows 7 too. For the same hardware you'll get better performance simply because OS X doesn't have to support millions of hardware combinations and engineers can therefore spend more time focusing on optimisation. How does Toshiba, Dell or Lenovo hope to appeal to a style market when their brands speak 'business?' It smacks of  clumsy-cool don't you think?
This follow-the-leader approach never works. PC's are boring. Manufacturers should accept that and focus on price and flexibility, not sealed-unit corner-cutting copycat eye-candy.
-END
This article obviously doesn't represent the views of the author and this website so in a follow-up article, I'll be discussing these points and taking into consideration the discussion in the comments below.
Update: The Argument for Ultrabooks has been posted.