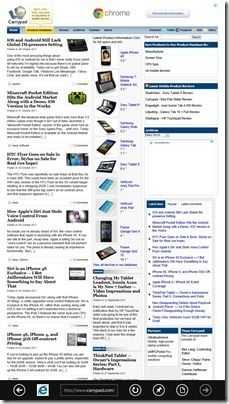 Metro Browser
I've been impressed with the browser so far. The quality of the content rendering and compatibility is good, it's fast, it's fluid and it's clutter-free. There are issues though and I've listed some of them below. Cut and paste seems to work well with the finger, accessing tabs via the pulldown-menu is intuitive and I've even been happy using Bing as a search engine.  I am even detecting that the Metro Explorer gets suspended when the desktop is being used. I love the ability to re-open the URL in a desktop browser if needed.
Issues
Drag and drop in Javascricpt applications. Try Google+ Circles.
Bookmarks sync / tab sync / state sync between desktop and Metro browsers
Security and features missing. (Clear cookies, saved passwords)
Sharing subsystem can't really be checked fully as applications are rather basic right now.
Flash not supported.
Here's a video demo of the Metro browser focusing on what I've mentioned above.
No start menu!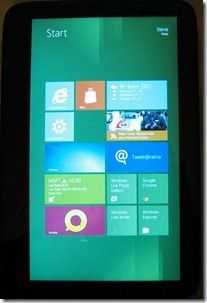 This is going to be a tough one for people to get immediately comfortable with but after a while I've managed to view the Metro UI as not only a widget and Metro application pane but also as a start menu. By pinning your required applications to the Metro UI, you can access them easily. Searching for apps is also quick. You can seee an example of applications pinned to the Metro UI to the left. (You do this by search for the app, right-clicking and selecting 'pin')
Windows 8 Core, and Mobility
Moving on the the Windows 8 core then it's encouraging to see it controlling the PC for better energy efficiency than Windows 7. There could be a number of optimisations involved here but the net result is that Windows 8 allows a PC to idle to a lower point, more quickly. On the Atom-based Fujitsu U820 I tested, I'm seeing an estimated 20% lower idle drain rate. If you consider the idle capabilities of the newer Intel platforms, it's going to be even better. Ultrabooks are likely to idle very well too because of their tight designs.
It's a shame we can't work with an idle PC though ; 'getting things done' means screen-on, Wi-Fi on, USB, busses active, CPU and GPU all working to keep up with our demands and this is where ARM may have a little problem. In an active state like this, the CPU accounts for a small portion of the battery drain, about 20-30% on a X86 PC so the importance of getting a processing job done as quickly as possible in order to let everything else idle down can not be understated. [Look-up 'HUGI and check this article out for more details.] Simply put, you do not want a slow CPU on a peripheral-loaded computing platform.
It turns out that Windows 8 is fairly resource heavy. This is the developer preview we're looking at but I've been testing in 1GB of RAM and it's clear to see that 2GB is going to reduce a lot of bottlenecks and improve efficiency. 4GB is needed for major application work and at that point you get into the 64bit requirement too. Windows 8 is not targeted at mobile in this respect. How about that 6GB-9GB install space requirement! That means expensive 32GB SSDs as a minimum.These peripheral costs mount up and leave mobile operating systems with the advantage.
Fast-start through the newly designed hibernation system is going to help and we're probably going to get to a point, finally, where we can say that standby is reliable enough that the user doesn't really need to use the power button any more to shut the PC down.
[Note: I haven't tested pen input or sensor support and the app store is not available for testing yet.]
Summary
I know many people out there are not interested in Windows 7 on a mobile device but the fact is (was?) that Windows 8 has (had?) potential to be the first high-dynamic range desktop operating system that could cross-over to handheld PC's. It looks like that its not going to be the case.  Not only do I think that Windows 8 won't usher in a new wave of handheld productivity devices but seeing the build in action and seeing the target use-cases I'm certain that Windows 8 will require large screens and powerful processors. It's going to be an easy win for X86 against ARM for the next 2-3 years.
I'm continuing my testing with an ExoPC and note that if you're in Europe, the WeTab, a Meego version of the ExoPC hardware is available in a few places for a really cheap price right now. Its not a mobile tablet but it's solid, has a 1366×768 screen and is probably the cheapest way to give Metro a test for touch usability. Good for developers too!
Have you been testing?
What do you think of Windows 8 in relation to mobile and handheld devices. Did Microsoft just make an operating system with a finger-focused, tablet UI that can't be used on handheld devices?
Pages: 1 2