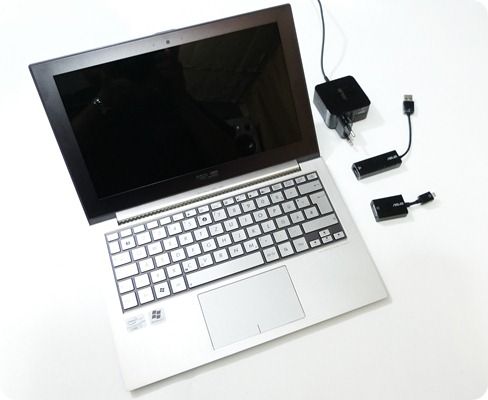 Thanks to everyone that joined in the live testing session yesterday evening. It was totally worth the effort because we uncovered a few more nuggets of information and a lot of data on gaming as well as confirming battery life and performance. The videos are embedded at the bottom of this article.
The bad news first. During the evening we experienced two power-downs on removing / inserting the power plug while we were in a game. It was an instant-off situation [see it on the live video here.]. Apparently others have experienced this too. I testing today, I experienced an instant shut-off while World Of Warcraft was loading (on battery mode.)
Secondly, we experienced one trackpad lock-up although it was as we opened the driver settings for the trackpad. After about 30 seconds the trackpad came back.
In runtime tests during the first part of our review work we used 20% of the battery in 1hour. It matches with my other testing figures which indicate the UX21 can run from 9hrs (idle, unused) through to 1.5hrs in high-performance gaming. In between is a 3-5hrs 'average' for most internet-connected workers. Video playback (HD) can be done for about 3hrs.
I was asked to test audio quality because of a report of mains buzz on the analogue output. The analogue signal was clean with and without power inserted (EU plug, 2-pin without earth) and we confirmed that digital audio is sent over the HDMI connector. Separation was good and the sound was clean on the analogue signal. Built-in speakers are very good for the size of device. In summary, no problems with audio. In a later test I confirmed that the audio output is a headset port with mic-in enabled on the same connector.
We've got a Core i7 1.8Ghz version with 4GB here. It's as powerful as an Ultrabook gets and I'm impressed at its dynamic range. Converting 1080p to lower bitrates is very quick using Cyberlink MediaEspresso, unzipping large files is fast, browser test results are fast and the SSD really smooth's the experience out, even in battery-saving mode which, while not really reducing battery drain much, seems to put a cap on how crazy you can get with the device. It's a kind of safety mode. Video playback performance is top notch. A 1080p home video at 30Mbps played flawlessly with the CPU at around 13%. And then we did some gaming tests…
HD Pinball downloaded (above left) downloaded from the the Intel AppUp store [expect to see this pre-installed in some Ultrabooks] played flawlessly and in full screen. No problems there.
A 2008 game, GTR Evolution, (demo, downloaded from Steam) worked but looked a little jittery…until I realized I was playing it in battery-saving mode. Switching to performance mode solved that problem and it worked nicely at full-screen with standard graphics settings.
We then tested Half-Life 2. During the (quiet) opening stages of the game the FPS counter stayed at over 100 (mains, performance mode) When running on battery, that was pushed down to 50-60fps which we found acceptable. No tweaks were made to the full-screen graphics settings.
For a bigger tests we got World of Warcraft running. With 'good' graphics settings, Vsync enabled and native resolution we saw 20fps on battery and 30fps on mains power. Going to full settings and turning off Vsync saw the experience turn to an unusable 10fps and less. At good settings with vsync disabled though 40fps was seen in quieter scenes. In my opinion, it doesn't leave much for headroom and with the base starting to warm up, it wouldn't be something for the lap. Take it as a reference point from which many of you might be able to gauge other game experiences.
I'm quite impressed at the 3D power available although it's fair to say I'm not a gamer. It's more than a 'snacking' machine but way less than a modern gaming rig. I think it's fair to say that it's 2008-class gaming-capable but you'll have to be prepared to tweak-down some of the heavier games.
On the heat and noise testing, we found nothing worth worrying about in work-type usage scenarios but the UX21 can build up heat and get very loud when gaming or video editing or rendering. On one hand it's annoying but on the other, it seems to be doing a good job of getting the CPU cool enough to keep Turbo Boost running at 2.0-2.2GHz. 10-20% more than nominal speeds. I was expecting a warm Ultrabook to have effectively zero thermal headroom for Turbo Boost but I'm wrong. At least the UX21 seems to be doing a good job at cooling under load.
Notes:
USB to Ethernet adaptor is USB2 to fast Ethernet – 100Mbps
VGA adaptor tested without issues at 1440×900
Boot time 21 seconds (with a number of games, applications installed)
Resume time – consistently under 2 seconds
Only one external monitor can be used at a time. This applies to all 2011 Ultrabooks
Confirmed in a separate test – the headphone port is a headset port
Finally in this update, there's the keyboard. I am not finding myself comfortable with it. I would need to change my style quite a lot for it to be as fast as other, cheaper, devices I've tested and my missed-key rate isn't going down very quickly. That said, I write a lot and expect a lot.
A full review can be expected next week but before that, I want to catch the gaming experience on video. I plan to do that in the next few days. In the meantime, take a look at the live videos. They are long and not the greatest of quality as they were taken from the live stream. You'll see the keyboard and mouse in Part 3 and gaming in Part 4. Part 4 ended ubruptly due to some technical issues.