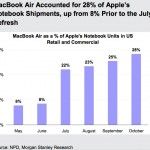 It's estimated the the MacBook Air now accounts for 28% of all MacBook sales in the US market. Looking at the MBA as a sealed-unit, thin-and-light in a range of traditional notebook solutions, it's interesting to draw comparisons to the Ultrabook in its larger notebook market.
Specifications and links for the MacBook Air are in the database.
It's taken the MBA 3 years to reach this penetration, the same could happen in the Windows notebook category and in a shorter timeframe because I believe much of the reason for the accelerated penetration seen by the MBA is because the platform, as used in all Ultrabooks, now meets or exceeds most customer expectations. In previous generations it didn't.
I'm not going to do any Ultrabook vs MacBook Air technical comparisons here (feel free in the comments section below) but I have taken the chance to drill down into some sales numbers that show some more dominance by the MBA in this thin-and-light market.
I've pulled out two sets of figures from reports and estimates and although there is room for a lot of error here, there are indicators that the MBA is selling at a rate of 300000 units per month.
Data set 1
MBA is 28% of MacBook sales in US market
12-14m globally, all MacBook devices.
3.5 million MBA per year given similar global percentages.
About 300.000 per month average
Data set 2
4.89 macs in q3 2011
MBA is 10-20% of mac sales.
500K-1M in quarter, up to about 300.000 per month
MBA outselling Ultrabook models 5:1,  55% of total thin-and-light market in Q4
There are no concrete sales figures for Ultrabooks and other thin and light notebooks but there are a few reference points. Acer is confident of shipping 300.000 Ultrabooks this year. (3 months total) Asus may be shipping 200.000 per month.
Lenovo could reach similar sales numbers as Asus and Acer based on large distribution and good reviews. Toshiba's Ultrabook availability is a little late but a good price in the US is securing popularity.
This is very much finger in the air work here but it sounds like 800,000 shipments is a reasonable estimate for the 4 Ultrabook models.
Compare that to a total of 1 million MacBook Airs, sold in the quarter.
One thing is for sure, the MBA is showing the way to a new generation of notebooks design and production. The Ultrabook project is exactly the right strategy for a healthy Windows notebook market in the future – as long as Windows can hold its own against OS X products? It's really up to Microsoft and Windows 8. Intel may win either way but I wonder how HP, Dell, Lenovo and the others feel.
References used in this article:
http://www.kitguru.net/apple/carl/macbook-air-sales-continue-to-claim-as-pc-market-declines/
http://www.appleinsider.com/articles/11/11/14/macbook_air_now_28_of_apples_notebook_shipments.html
http://www.macrumors.com/2011/07/21/apple-shipping-up-to-500000-macbook-airs-per-month/
http://www.businessinsider.com/apple-earnings-2011-10
http://www.appleinsider.com/articles/11/09/12/apple_on_pace_to_sell_record_4_5m_macs_this_quarter.html
http://www.digitimes.com/news/a20111111PD211.html