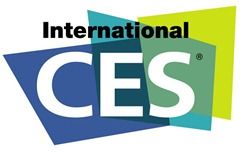 Thanks to support from Intel I'll be flying out to the Consumer Electronics Show which starts for us on the 8th Jan. CES is the #1 show in the US for computer-related electronics and is generally a showcase of products and technologies that you're likely to see in the first half of 2012. Intel and their customers will have a huge Ultrabook-focused presence and we're extremely pleased to be part of it.
CEA, the organisation that runs CES, has already made a statement about Ultrabooks saying that there will be 30-50 Ultrabooks at the show. We expect 2011 Ultrabooks, re-brands and variants to form part of that list but it does mean that Ultrabooks from the likes of Dell, MSI, Samsung, Sony, Fujitsu, Panasonic and others could be at the show. You'll also see a bunch of prototypes and I expect Intel to showcase touch and convertible devices, 15" devices and even some tablet-sized 10" demonstrators proving that Ivy Bridge runs in even smaller package sizes than what we're seeing today. You'll probably see a few Windows 8 demos and hear talk of power efficiencies. MS and Intel will have been working closely on support for low-power idle.
Not only will we see products, we'll also see Technology.
Expect McAfee to show embedded security solutions and further demonstrations of Wi-Di, Smart Connect and, here's one I'm expecting a lot of noise from, the Intel AppUp store.  I'll write more about that in an article soon.
Individual  manufacturers are expected to show Ultrabooks in their press events on the 9th and that includes LG, Samsung, Panasonic and Sony although nothing has been confirmed yet. We'll also get a press conference from Intel. Ultrabooks will be at the center of that.
On the 10th, Day 1 of the show,  we'll be up very early to attend a press event on the Intel booth. That means a first look at some of the new devices. Expect video soon after that. Later in the day we'll be hearing from Paul Otellini at his keynote. No-doubt Ivy Bridge will be on stage and demonstrated with its new GPU and power efficiencies.
Apart from that we'll be setting up one-to-one meetings with Ultrabook execs, product managers and AppUp representatives. The later is something we're interested in since the announcement of the $100M Intel Capital AppUp Fund.
It's going to be a huge show so stay tuned for your detailed Ultrabook News from CES starting from 8th Jan.