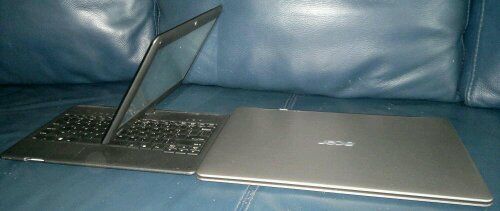 The Ultrabook news category got a little over-excited yesterday on news that Asus would be showing a touch-capable convertible Ultrabook at CES, despite the fact that it sounds like Intel put it together as a demonstrator and that it may not actually be that useful.
Tech journalists love stories that cut across multiple categories, especially a fledgling one and the keyword-stuffing that some editors did was interesting. Windows 8, iPad and MacBook Air were mentioned but very few people gave thought to whether this combination of all-round capability would be more, or less, than the sum of its parts. My opinion, below, is that the traditional convertible won't be that successful and it might be better to focus on 'ultraslates' rather than 'ultra-convertibles' although I'm also proposing a very interesting alternative too that could be a breakthrough for Windows tablets.
I have a touchscreen, convertible ultra-light notebook here with me right now. Actually its a thin convertible 10″ notebook from 2009 but it's built to much the same design constraints as an Ultrabook. It's got an SSD, it uses an efficient Atom platform (of last generation – ivy bridge is likely to be larger than this) with a battery that keeps the weight to the 1KG level. There's a multitouch screen and its running windows 7. It even has a 3G module. The S10 was a quality item from Viliv a company that produced some great niche Intel/Windows touch products but has recently gone under. Is that a red flag perhaps?
Despite the exciting design, the S10 doesn't work well as a tablet. Why? It's got nothing to do with thickness or processing power or battery life. It's just too damn heavy. Its a super light notebook but super heavy tablet. That weight problem will forever continue with convertible devices as tablet-only, tablet-focused equivalents remain 30-60% lighter than the latest tablets.
Anyone remember the Asus T91 and Asus T101? How about the Lenovo S10-3T? I still have the latter and I used a Gigabyte 1080 convertible netbook for nearly two years. I've had more experience with touch-enabled notebooks than most people but I only used them in specific ways. I used the touchscreens quite a bit for window dragging, selecting, drag and drop and for some, but not many, annotations – all in 'notebook' mode. I never once used the device in tablet mode, outside photos and demos. I'm an average kind of user. Doctors, artists, transport planners, pilots and other vertical markets are different but Ultrabooks are targeted ar the mainstream user. Convertible touchscreen Ultrabooks and the mainstream user don't match together well.
Weight is a huge barrier to casual tablet use.
Will Windows 8 provide a reason to jump the barrier though? I don't believe so. Put it this way – if you took the best tablet user experience in the world and delivered it in a 2.2lb package, no-one would be interested outside some niche user groups. Simply imagine an iPad with double the weight.
There are a few other issues for Windows 8 convertible Ultrabooks…
Battery life on these ultra-convertibles will be inferior to ARM based solutions, at least until the end of 2013 and the Haswell one-chip solution. (Note that there could be some interesting Atom-based solutions coming up in 2012 but I expect these to be running Android, not Windows.)
There's a lot of catching up to do in the application race. I do believe Windows Metro will attract some great developers but it won't offer the leading edge of mobile applications
Windows 8 Metro touch requires a side-swipe. I've learnt that it can be akward with screen bezels. Touch panel covers, possibly scratch resistant, will have to go across the whole facia of the screen to provide stepless edges. That also impacts cost and weight.
There's going to be some in-fighting going on with marketing departments, product managers, designers and engineers right now. The marketing teams must be getting extremely excited about hitting multiple hot keywords with a single device. There are some great advertising and hype possibilities there and to many people it sounds fun and exciting. Indeed, it can be fun if done well but the designers and engineers will struggle with this. They know there are technical limits and cost impact and that the weight will be a problem. The product manager may find that even if he finds a solution, when he takes it to the financial director they may turn it down as being too good. Why sell one device when, given strong brand ecosystems, you can sell two?
There might be a solution though.
Introducing WiDi Tablets
Ever thought about a removable or mobile screen that uses Wi-Di technology to provide up to 1080p resolution on a lightweight touchscren? I have. I'm wondering if an extension to the Wi-Di specifications to enable touch data to be sent to the 'desktop' part of the Ultrabook might be possible. In that case, and given that technologies like panel-self-refresh could really help, you would just  need a screen with a Wi-Di TX/RX device and a battery of about 10wh for a very light, 1lb, 10″ tablet that could last 5-10 hours. The awesomeness continues when you think about one Ultrabook, many Wi-Di Tablet screens at different sizes. Multiple concurrent tablets even? The idea sounds more than possible to me but I don't think it's something we'll see in 2012. Wi-Di is, I believe, a lossy transport so it would need to made lossless for a good experience but maybe there are other solutions out there. I saw a remote display solution demonstrated at Droidcon NL a few weeks ago which could be perfect. Dream Chip have an openGL mirroring system called Xbounds. It wouldn't work for everything but it might be good enough to mirror the important Metro layer. Intel, I propose you get someone from Intel Capital's Ultrabook Fund to take a look at this, or indeed, the whole idea of wireless remote tablets because the detachable display is probably the best way to approach touch on Ultrabooks.
You heard it here first though. Wireless tablets and Ultrabooks could go together in a very disruptive way.
Touch, Ultrabooks and 2012
In 2012 the market for convertible touch Ultrabooks will be small. I'd rather have companies focusing on quality Ultrabooks, 'Ultraslates' and mobile tablets at a lower price rather than trying to mash it all together. Wouldn't you?