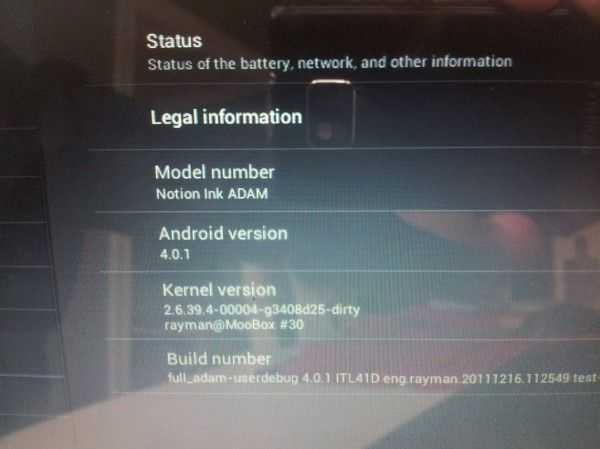 The Notion Ink Adam was launched just about a year ago, and while it didn't quite live up to the hype, the company is working on getting the one year old unit up and running with the latest version of Android, 4.0 AKA Ice Cream Sandwich (ICS). Notion Ink has been posting regular updates to their blog about progress in porting ICS to the Adam tablet. Their latest update included a video which shows the Adam quite easily navigating through ICS:
httpv://www.youtube.com/watch?v=PTwaPj7y_jU
If you've got an Adam and the stomach for installing pre-alpha software, see here for more details about ICS on the Notion Ink Adam.
So far, Notion Ink says they've got accelerated graphics, GPS, Wi-Fi, accelerometer, SD Card and ADB working, while the camera, sound, 3G, bluetooth, remaining sensors, and a sleep bug remain to be fixed.
This progress is surely a slap in the face of Samsung who have recently announced that the original Galaxy S phones and original Galaxy Tab will not receive upgrades to Android 4.0 / ICS. The reason for this, according to Samsung, is that the TouchWiz interface, applied by the company to all of their devices (less the Nexus S), takes up too much memory that an ICS upgrade would not be feasible for these devices. Instead of ICS, Samsung is apparently considering offering a 'value-pack' wherein the company would update these forgotten devices and shoe-horn in some of the ICS features, without actually upgrading to ICS itself.
The obvious outrage here is that, if TouchWiz is really the only thing holding them back from updating to ICS, Samsung should offer a vanilla update to ICS if the customer chooses.
Notion Ink is working on that very thing right now. The tablet originally launched with a completely skinned (far more than TouchWiz) version of Android 2.2, but the company will apparently still be offering an ICS upgrade to their customers, even if it means they have to let go of their proprietary interface.
Samsung obviously believes that TouchWiz is important to their customers and that's why they won't simply cast it aside and offer a vanilla ICS install. For some customers this may be true. For me, and most of the people reading this site, I'd say that they'd be willing to drop TouchWiz to get the latest performance, feature, and security updates out of ICS, and I think it's Samsung's duty to offer them at least that, especially when a company as tiny as Notion Ink is managing to do so.