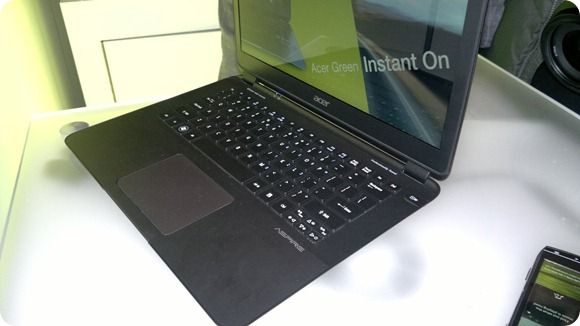 This is the new Acer Aspire S5 Ultrabook. Looking a lot nicer than the original S3 in my opinion. There's a good range of ports including, for the first time on an Ultrabook, Thunderbolt. All the ports are hidden behind an electrically driven raised panel.
Because it's due for availability in Q2 2011 it's likely to be based on the Sandy Bridge processor. We saw an undefined 1.7Ghz CPU in the device manager though so maybe availability (and a little time-slip) means this really is going to be an Ivy Bridge Ultrabook. The appearance of Thunderbolt hints towards that too. On the demo device we saw 8GB of RAM and an SSD marked up in the device manager as 'LITEONIT LMT 128M3M.'  There was no indication of battery life . Wi-Fi is based on an Atheros module.
The weight is 1.35KG and the maximum thickness is 15mm.
Post list:
Thunderbolt
2x USB (including USB3.0)
full size HDMI (No VGA)
Full size SD card slot
Headset port
From the press release:
Magical I/O port panel
The Aspire S5 is Acer's first Ultrabook to feature a smartly designed MagicFlip I/O port panel concealed just below the hinge. This design feature enhances the overall slenderness and streamlined form of the S5. When needed, a press of the MagicFlip key opens the panel to reveal a selection of I/O ports: HDMI®, USB 3.0 and 20 Gbps Thunderbolt.
It looks cool, but what happens when it breaks and you can't access the ports!
A full gallery is available here.
Full press release:
Acer Unveils World's Thinnest Ultrabook: Aspire S5
Ultra-fluid form with hidden I/O panel
LAS VEGAS, USA (January 8, 2012) — Acer unveiled the world's thinnest Ultrabook with the Aspire S5, an ultra-slim device that measures only 15 mm at the maximal point. It weighs less than 1.35 kg (less than 3 lbs.) and is built with a 13.3-inch (34 cm) LCD. In addition, it features the unique Acer Green Instant On technology for fast boot and resume, and Acer Always Connect, which lets users manage their multimedia and data on all their devices at anytime, anywhere — even from sleep.
"The Ultrabook is much more than just a product segment," said Jim Wong, president of Acer Inc. "It's a new trend that will become the mainstream for mobile PCs, and customers will see the unique features gradually extended across Acer's notebook family."
Instantly on and always connected
Innovative Acer Green Instant On and Acer Always Connect technologies enable data upload and retrieval anytime, anywhere, and deliver power-saving features as well.
Acer Green Instant On provides instant-resume functionality (in 1.5 seconds) and ensures battery life that lasts several weeks.
Acer Always Connect gets users online faster than conventional connections for better productivity and infotainment enjoyment. With their Facebook, Twitter and Outlook email accounts open, users can see updates instantly upon resuming. Furthermore, Acer Always Connect can wake up the Aspire S5 from a remote device like a smartphone. Access to all documents, music, pictures and video files is fast and always available.
Ultra-fluid contours
Adorned with a delicately curved chassis in Onyx Black, the Aspire S5's cover rim wraps around the system body like a protective shell. A magnesium-aluminum alloy cover and palmrest provide a slimmer and sturdier form, while the metallic brushed detail presents subtle elegance. The clean and ultra-fluid contours seen from all angles make the S5 a vision of beauty.
Magical I/O port panel
The Aspire S5 is Acer's first Ultrabook to feature a smartly designed MagicFlip I/O port panel concealed just below the hinge. This design feature enhances the overall slenderness and streamlined form of the S5. When needed, a press of the MagicFlip key opens the panel to reveal a selection of I/O ports: HDMI®, USB 3.0 and 20 Gbps Thunderbolt.
Performance and eco-friendly features
The Aspire S5 features an Intel® Core™ processor, SSD storage for speed and increased shock resistance, professionally-tuned Dolby® Home Theater® v4, long battery life via the PowerSmart battery pack (with a 3X longer life cycle1 than traditional batteries), and is equipped with a chiclet keyboard.
The Aspire S5 will start shipping in Q2 2012.
**