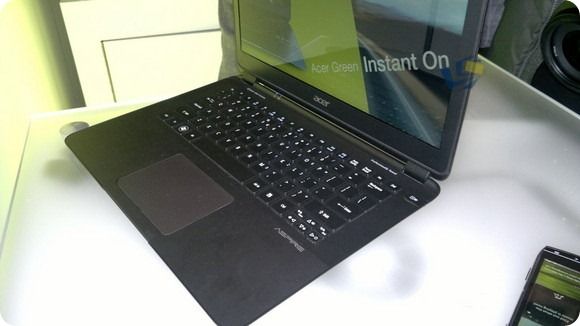 I suspected that the Acer S5 shown at CES was going to be an Ivy Bridge Ultrabook as it fits with the Q2 timescale, previous leak and hidden CPU information on the demo we saw at CES. it looks like another tech site saw the possibility that the S5 is based on Ivy Bridge too and took the chance to benchmark it. CPU figures are slightly better than on Sandy Bridge but the GPU figures show a marked improvement.
While Golem.de aren't saying which device they tested, the CPU information and background colour in the images and video is a give-away – the lighting in the Acer S5 launch event was something we all remember from our S5 photo-attempts.
Ivy Bridge brings two important features to the Ultrabook platform. Firstly it's based on a 22nm production process. That reduces power usage on the silicon (and heat) and allows a little bit more clock within the same TDP limit. Secondly, the graphics on Ivy Bridge are re-worked. The HD4000 graphics unit with DX11 support should provide significant improvements. Two Ivy Bridge part numbers are in the wild already.
Back to the Golem.de tests. They had a chance to run Cinebench which returns two performance figures. The first is a CPU-based result. Golem.de saw a result of 2.38 which is higher than our highest test result of 2.11
On a GPU test, the test returned 12.17 FPS Our highest test result so far is 8.36 FPS. Ivy Bridge clearly has some GPU improvements to look forward too.
The test results are obviously on non-optimised hardware and software so come the end of Q2, we should see even better results.
Note: Don't expect significantly better battery life on Ivy Bridge Ultrabooks. It's likely manufacturers will still have the same thermal design restrictions and some manufacturers may choose to reduce the size of expensive and heavy batteries.
You can see the 3D test being performed in the video below. The article (German) is here.