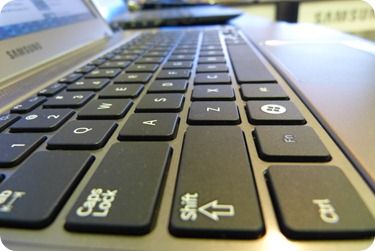 While I've got the chance to test the Series 5 13.3" and 14" at the Samsung Media Lounge here at CES I downloaded CrystalDiskMark, did a boot test and a few other tests.
I've already talked about the keyboard which is as good as the keyboard I'm using right now on the Samsung NP350. I've also mentioned the good selection of ports and the Wi-Di which put it ahead of devices like the Acer S3.
I've checked out the screen which is good quality, high brightness matt screen although definitely not in the IPS league when it comes to viewing angles.
Samsung have a 'fast boot' mode on the Samsung Series 5 which was interesting to see. It speeded up the boot on the 1TB HDD version to a respectable 25 seconds. Resume is fast too.  In terms of disk speed, here are the results.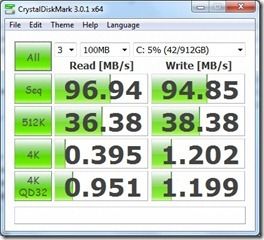 For the SSD version, the boot speed is 5 seconds faster although you get into a smooth Windows experience a lot quicker than on the HDD version which continues to do work in the background after boot.
Here are the disk speeds for the Series 5 13.3" with the 128GB SSD.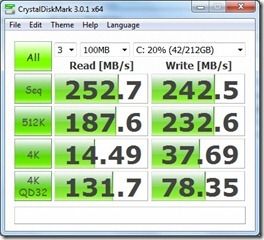 I tried to do a Cinebench OpenGL test on the switchable graphics (14" version) but didn't succeed in getting it to switch to high performance mode. I'll work on that over the next few days.
There's a silent mode on the device which allows temperatures to rise before the fan kicks in. When the fan is on you can detect a slight whirring noise but in this office-like environment here it requires lifting the Series to the ear to hear it.
Power and Battery Life on the Series 5 Ultrabook
The Samsung Series 5 13.3" has a 45Wh battery inside and using my usual low-screen, Wi-Fi-on idle test I was able to reach a background drain of 5W for nearly 10hrs of idle-on.
The figures I'm seeing would indicate a good-average drain of about 9-10W when using office applications, screen brightness at 30% (enough for the average office) for up to 5hrs of usage. Reduce the figure by up to 30 minutes for an HDD version. It's not as good as the Samsung Series 9 but on par with the best of the other Ultrabooks and a lot better than the worst of the bunch.
Overall I feel confident in saying that the Series 5 Ultrabooks are definitely worth looking at and the prices are going to be competetive. In Europe, I'm seeing pre-order pricing at the €799 mark which is the same price as the 'budget' Acer Aspire S3 Ultrabook. It's clearly a better device than the Acer S3 and should do very well at that price.