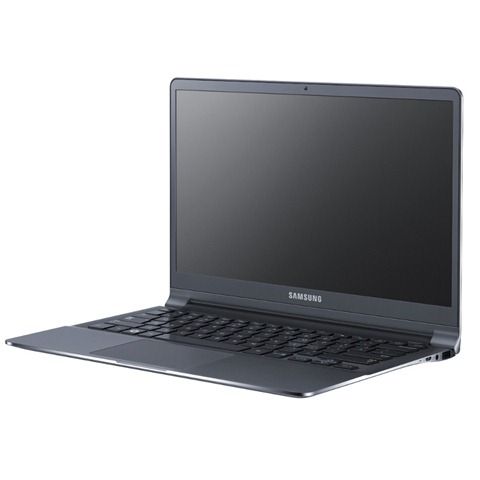 We were told that 30-50 ultrabooks would appear at CES last week and while there was indeed a lot of buzz and news, there really are only two truly new models to consider today. Everything else was either already reported, a future, demonstrator or prototype Ultrabook. Some will make it to the shelves, most won't. In total we added 9 devices to the database (along with a ton of links, images and videos) and there are a few more that may appear later in the year but let's go over the important devices to be considered over the next month and mention a few brands that still aren't in the game. After you've read the article, let us know what your Ultrabook shortlist looks like.
You can view all the current Ultrabooks and many Ultrabook  alternatives in our comprehensive Ultrabook product database.
The CES Ultrabooks for 'Today'
Dell XPS 13
The Dell XPS 13 Ultrabook looks great but like many others, there's a restricted range of ports and a screen resolution of only 1366×768. A full-glass facia, Smart Connect, Wireless-Display and the claim that the size is equivalent to that of an 11.6 laptop will be things to check out at the earliest opportunity but don't expect anything ultra-light. It weighs as much as the Asus UX31 at 1.4KG. After a quick play with the keyboard it felt different, but good. The keyboard backlight is very welcome. It's a full SSD-based Ultrabook and comes with Smart Connect (periodic wake-up and sleep.) The 47Wh battery won't give it any major battery life advantages over other devices in the category. At $999 with Core i5 it's going to be a good option in the Ultrabook space. I just wish it had an SD card reader!
Dell XPS 13 Specifications, Links, Images, Videos available here.

HP Envy 14 Spectre
If you want something with a bit more style than the XPS 13 then maybe the Envy 14 is one for you although before you order, take a close look at the Samsung Series 9 2012 which looks to be in the same class. The HP Envy 14 is a $1400 device with a full set of ports, Gorilla Glass screen, 1600×900 resolution, Wi-Di and keyboard backlight. The only issue, apart from the price, is the weight. At 1.7KG it's a lot heavier than other devices. I can't find the battery capacity but I'm hoping that HP have squeezed something big in there.
HP Envy 14 Spectre Specifications, Links, Images, Videos available here.
The CES Ultrabooks that we already knew about
Leaked before CES although available for hands-on for the first time for many tech journalists were devices from Samsuing and LG. The Series 5 represents an interesting move by Samsung because they also launched a thinner and lighter device that isn't an Ultrabook. See below for more information on the 2012 Series 9.
Samsung Series 5 13.3 and 14"
It was admittedly a shock to hear about a 1.8KG two-spindle (DVD + Hard Drive) laptop being labelled as an Ultrabook. The 14" Samsung Series 5 Ultrabook just doesn't seem to fit although if you try looking for a 1.8KG 14" laptop with a DVD drive the choice is limited and the Samsung Series 5 14" is the only one with a ULV CPU which is likely to return better battery life than most of the competition. The 13" Samsung Series 5, on the other hand, is quite a nice device. Known as the NP530U3 it's available with a hybrid hard drive for just €799 in Europe which makes it just about the most competitive 'budget' Ultrabook there is. I had a chance to spend hours with the Series 5 over a couple of days as I worked in the Samsung Media Lounge where access to the Series 5's was unrestricted and I've put enough information together to cover a full review.
Samsung Series 5 13 Specifications and Information available here.
Samsung Series 5 14 Specifications and Information available here.
LG Z330, Z340
The LG Z330 is due in February (in USA and Europe at least) and is a fine looking device. (Hands-on here) Port selection is OK if you're happy with microSD and an Ethernet adaptor cable, there's a nice thin screen bezel and the overall dimensions are competitive. The keyboard appeared fine in our brief test but a longer term test will be necessary before it's deemed error-free. You've got an Intel Wireless module with Wireless Display support but no keyboard backlight which is something the Dell XPS 13 offers. In fact the Dell XPS 13 and LG Z330 are likely to be very lose on peoples shortlists. Availability is Feb 2012 so we're likely to see the first retail hands-on and reviews very soon. The Xnote Z430, a 14" Ultrabook remains untested for us at present but obviously it's going to be up against the HP Envy 14 Spectre. Our feeling is that it will be lower priced than the Spectre. The 1366×768 screen may disappoint some though. 1600×900 on a 14" screen is a more sensible and productive choice.
LG Xnote Z330 Specifications and Information available here.
LG Xnote Z430 Specifications and Information available here.
The 'Uber' Ultrabook
Samsung Series 9 13" 2012
Here we come to my favorite device of CES 2012. The previous generation Samsung Series 9 was a gem, apart from a weak Wifi set-up. The new, redesigned Series 9 should fix that with an Intel Centrino WiFi module. It has a keyboard backlight, 1600×900 display even on the 13.3" model, a starting weight of just 1.13KG. Pricing will be around $1400. I can't wait to test this but the fact that Ivy Bridge will follow-up in Q3 means many will hold back for the better processor. There's a 15" model too.
Samsung Series 9 2012 (900X3B) Specifications and information in the database here.
Ultrabooks for Q2 and beyond
A number of Ultrabooks were announced with launch dates that could tie in with Ivy Bridge availability. Certainly Lenovo were open about the fact that if Ivy Bridge is ready, the U310 and U410 may use it. The Acer S5 ould be an Ivy Bridge device too along with the next generation Toshiba Satellite and the Lenovo Yoga although that one might have some question marks over it due to the complex design.
Acer Aspire S5
The first new Ultrabook of CES 2012, the first with Thunderbolt and the first with a hidden motorised port bay. The Acer S5 is unfortunately short on confirmed specs and pricing so there's little to say about it right now. A 'Q2' launch date could also mean an Ivy Bridge target which would fit well with new low-cost thunderbolt controllers – Cactus Bridge – that are launching with ivy Bridge. The CPU ID was hidden on the Acer S5 that we had hands-on which also indicates that the device may run Ivy Bridge.
Acer S5 Specifications and information in our database here.
Lenovo U310 U410
With the lowest price of the show, these two 'back to school' Ultrabooks will be aimed at a more mainstream market. They will have rotating hard drives (possibly SSD only configurations too.) The target price of $699 is challenging and could set the bar although by Q2/Q3 when these are released, first-generation Ultrabooks should also be reaching the $700 mark. Lenovo say that if Ivy Bridge is available, it may go inside although if they are building to a price, a low-cost Sandy Bridge CPU may make better sense. No real confirmed specs but we've got as much as we can find in the database.
Specifications and information: U310 here. U410 here.
Toshiba next-gen Satellite Ultrabook
There's nothing much to day about this one at this stage. It was held up at a press event in terrible lighting conditions but we managed to get some idea of the set-up in some photos here. Toshiba are working with Windows 8 on this one so we'll have to wait for more information. Hybrid hard drive and 'under 4lb' were the only specs given. We'll get this in the database when there's more information.
Lenovo Yoga
Showing Windows 8 and a touchscreen the Lenovo Yoga is a totally different take on the Ultrabook. The screen folds back 180 degrees to lay flat on the back of the unit allowing the user to use the touchscreen as a tablet. The size and weight could be a problem for many users though and we feel that the design is a risky and expensive one meaning there's a risk that this won't reach the market. We went hands-on with the Yoga in this video.
That just about rounds up the Ultrabooks of CES 2012. There were others though. A prototype detachable tablet was surprisingly light and there were also prototypes shown in press events. The slider ultrabook is shown here and there was also an 'nikiski' Ultrabook with a see-through wrist panel.
We didn't get to see Vizio who, apparently, are launching a low-cost Ultrabook-like device but we suspect it's not an official Ultrabook. We'll certainly track it though because if they break through a new price barrier with a thin and light Sandy Bridge/SSD device, it will be interesting to see what sort of quality and features they've got on board.
Sony had a prototype Ultrabook under glass and Fujitsu had their SH771 but, along with MSI, these three companies still have to talk in earnest about Ultrabooks. Maybe we'll hear more at CeBIT in March. Yes, we'll be there!
How was CES for you? Given the new options, what are on your shortlist now?