At the AMD financial analysis day a few days ago (FAD) three families of APUs targeting the sub 20W TDP space were announced which means good options and good competition in the mobile computing space and with the low-power 'Trinity' application processor unit (APU) an interesting (competitor for Intel + products for us) addition to the thin-and-light market. It's exciting news and something we'll be following, and eventually testing, on Ultrabooknews. Here's my analysis of the facts presented. We'll be ignoring the AMD C, E and Z series APUS in this article. They are targeted at tablets and low-cost netbook-style devices.
The question here is – What does 'Trinity' A-series enable and will it be a true Ultrabook competitor?
From AMD's Fusion blog:

New for 2012, AMD will introduce a low voltage "Trinity" APU that will be ideal for the next-generation of ultrathin notebook. This "Trinity" APU matches the experience enabled by the AMD 2011 APU in up to half the TDP. As we said, "Trinity" is on track for introduction in mid-2012.
Trinity is the codename for an APU platform based on 'Piledriver' CPU cores. There will be an 'A6 series'  17W TDP version that will be interesting for the Ultrabook market and AMD is saying that it will offer the same performance as the current 'Llano' APUs at 35W. What does that mean?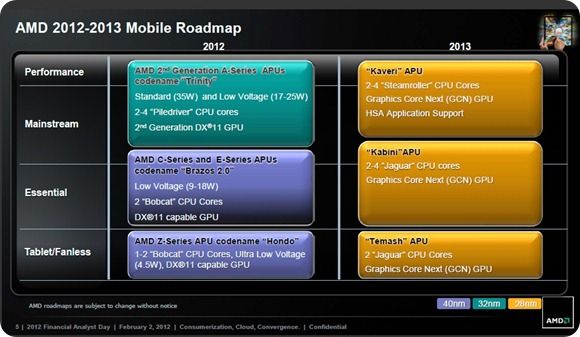 Clearly the A6 (Trinity ULV 17W TDP part) will have 2 Piledriver cores.
It means AMD will use a CPU core that has "25% performance increase over Llano" to create a (probably lower-clocked on average) 17W TDP version of the platform. The A6 will also have a GPU that performs 2x faster than the current Sandy Bridge solution – possibly beating the Ivy Bridge HD 4000 GPU solution.
Turbo wars
If you compare the claims with current A8 3500M which is a 35W TDP 1.5-2.2Ghz Llano mobile APU introduced for laptops in 2011 you can see the sort of performance levels AMD are talking about. It's Ultrabook levels of raw CPU power and a big advantage in GPU power. The big variable is turbo boost. Can AMD hold the turbo for as long as Ivy Bridge can. Sure, the TDP might be 17W now, but at what cost in Turbo?
There's huge scope for creative marketing when it comes to stats that include the use of thermally limited turbo boost. While a 30 second test may hold the max clockrate, what happens during a 2 minute video render when the system heats up and turbo-boost is unable to operate?
Tricky GPU benchmarking?
As far as the GPU is concerned, here's a quote from the notes on the slides presented at he AMD analysts day. "Results show 3D Mark Vantage for the A6 ULV 17W "Trinity" to score 2355 3D marks." Ultrabooks are scoring about 1500-1600 on 3D Mark Vantage although AMD used a lower-clocked Core i5 (that doesn't actually appear on Ultrabooks) and measured 1158 in their tests. Given the low test scores AMD's asssumption that Ivy Bridge will improve by 30% and the early benchmarks for Ivy Bridge showing a 50% improvement, there may not be a great difference come Q3. Again, it will depend on how good turbo and thermal designs are at keeping clock rates high.
Price – Lower cost products won't be Ultrabooks
AMD are talking about "sub $900" pricing which, if that covers an average price point, is likely to beat Intel-based Ultrabooks. It's no surprise that AMD will try to compete on price though and given that manufacturers will be looking to extend their product lines with cheaper options that look like Ultrabooks, products are likely to follow the low-cost lead by using lower-quality components inside cheaper designs thus leading to significantly cheaper, but difficult to compare products. Note: If existing Ultrabook designs depend on Intel IP (thermal designs for example, are likely to have been patented) then we are unlikely to see AMD versions of existing Ultrabook designs. These cheaper  solutions will definitely find a strong place in the market but they are unlikely to be directly comparable to Ultrabooks. (See below for a list of Ultrabook experience elements.)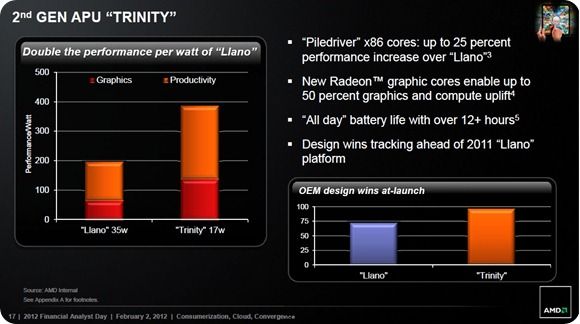 'FAD' Slides are available here.
Battery life marketing – Ignore
As for battery life, AMD says that battery life will be "over 12+ hours." Looking at the accompanying slide notes shows us this is an idle figure for a 35W TDP test system. Ignore that! On the 17W TDP 'ultrathin' part AMD says they are "projecting better battery life than 17W competitive platforms." Two things spring out of this statement. Firstly, 'projected' means they aren't sure because it depends on their customer designs. In normal use, a CPU/GPU only accounts for 30% of the battery life of an ultrathin too. Given that there are no projected weight figures for an AMD ultrabook, one can also see AMD encouraging bigger batteries and slightly heavier devices. Secondly 'competitive platforms could mean ones based on Sandy Bridge that have additional GPU power. i.e. the Samsung Series 5 14" with discreet AMD graphics. There's so much uncertainty in the battery life statement given by AMD that it's unlikely to be a key feature of AMD A6-based ultrathins.
Availability: Mid 2012
Summary:
We suspect AMD will have a competitive platform in Trinity A6-series APUs although CPU and GPU performance advantages may reduce to less than zero when we start comparing Ivy Bridge-based devices and include efficiency. A lot of the performance information depends on missing turbo boost figures which, in turn, depend on thermal design and advanced cooling systems. AMD will be relying on their customers here.
If AMDs customers do manage to make some great designs (we expect updated HP DM1 and Lenovo S205 designs getting Trinity A6 APUs and being very competitive on price) then yes, AMD are in the game and will create competition and a good range of products. These products may not be directly comparable to Ultrabooks though. Consider these Ultrabook experience elements that are becoming core parts of the Ultrabook and have nothing to do with CPU or 3D performance.
SSDs (will they be in 'sub $900' ultrathins?)
Security subsystems available in Ultrabooks
Thunderbolt ecosystem
Intel's Smart Response bios/controller and software solution for hybrid storage solutions
Wireless Display ecosystem
Patented thermal designs (E.g. keyboards as air intakes)
Panel Self Refresh technology
Video encode hardware (or GPU assistance)
AMDs ultrathin strategy and the Trinity A6 APU is great news for the lightweight laptop market. For those who are looking for a no-frills ultralight with great CPU and GPU performance for the price, there are likely to be some excellent solutions in Q4 but be careful how you compare them to Ultrabooks.