I know the Samsung NP350 isn't an Ultrabook but there's a method in my madness here. SSD upgrade!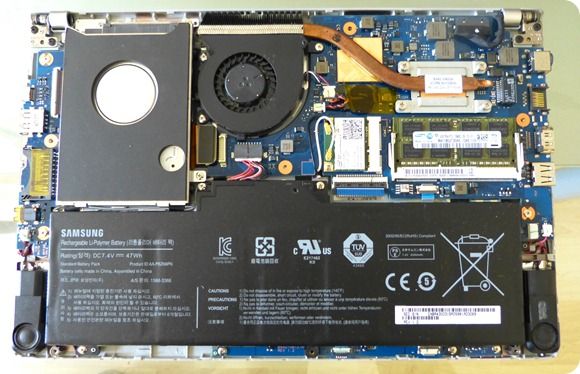 I bought the Samsung NP350 before Christmas for a very low price of £436 (£363 pre-tax) which I'm beginning to think was some sort of mistake because soon after I bought it, the price shot up by about 30%. (It's currently out of stock at Amazon UK for £479) In the USA there is a new 1.4 GHz Intel Core i3-2367M version (ULV, like an Ultrabook) for $679 and a 2.30 GHz Intel Core i5-2410m version  for $729. Yes, not quite as cheap as the £363 / $572 I paid but that ULV Core i3 version could be a prime candidate for a very long battery-life set-up.
Samsung NP350 naked pics below. NP350 Information page including review is here.
I chose the because it is light (1.4KG – same as the ASUS UX31,) has a good set of ports, has a small-bezel 12.5" matt screen and, although I didn't know it at the time, has a great keyboard, can be silent, has great battery life, performs as well as an Ultrabook and even looks OK. I took it to CES and did the whole week without shutting down (standby and hibernation worked 100%) I can totally recommend it if you see it for a good price.
The only issue is that it doesn't have an SSD so thanks to the guys at MydigitalSSD and MyDigitalDiscount, we're going to see how it performs with an SSD upgrade.
The process will interest many of you that have a thin-and-light laptop that isn't an Ultrabook because it's likely to have a spinning hard drive inside. Those of you with the Acer S3 or Samsung Series 5 might also want to see the results.
For reference, the HDD in the NP350 performs at a max 85MB R/W rate. Importantly the seek speed and small-block R/W speeds are very poor compared to an SSD. We'll also be losing some noise, about 100gm in weight, improving ruggedness and even improving efficiency and lowering heat.
I'm expecting the SSD to come in next week but for the time being, here's the Samsung NP350 naked!
There are 9 cross-head screws to remove and two of them are behind the rear feet. Lift them away from the sticking pads with a screwdriver. Prise the casing apart by running your thumbnail between the two parts and levering it apart from front to back. The rear part is a little more difficult to prise apart.
There are no wires or springs to worry about. The bottom part of the casing comes away to reveal averything. A 47Wh battery. Intel WiFi/BT card (Single antenna WiFi), the memory (accessible through a port on the casing so you don't need to take it apart to upgrade the RAM) and the all-important SATA hard drive. The Chipset used in the NP350 is capable of SATA III but i'll probably settle for a SATA II drive as the price/performance ratio is better.
The hard drive sits in a casing. remove three screws around the casing and carefully (the SATA connector isn't fixed to the case so hold on to it with a finger)remove the hard drive in its case. Remove the HDD from the case.
As I mentioned, the SSD is probably going to be here next week so check back for final upgrade process and performance test. I'll take the chance to re-install Win 7 from scratch too.