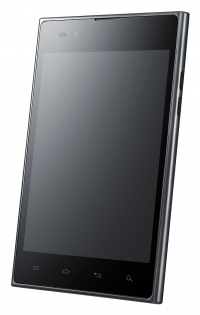 LG has announced the Optimus Vu a week ahead of the upcoming Mobile World Congress convention where they plan to show off the new phone. The Optimus Vu is a massive 5″ phone with a 4:3 aspect ratio — significantly more square than your typical 16:9 Android smartphone. This leaves it with a curious 1024×768 resolution. Exactly how Android applications will take to this non-standard resolution is unclear — though I was impressed with how well Android managed to scale applications to the likes of the HTC Status which has an odd 2.6″ screen with a 480×320 resolution. While I've argued that more square screens make for a better one-handed smartphone experience with Android, at 5″ the 4:3 ratio is not likely to help this very much.
LG says that the phone will launch running Android 2.3, but Android 4.0 Ice Cream Sandwich is already in the works. LG is billing the Optimus Vu as a device that could be useful for note-taking, but make no mention of an active digitizer screen such as those found on the HTC Flyer and Samsung Galaxy Note. Presumably then, the Optimus Vu will rely on a standard captive touchscreen which won't be as accurate or smooth for digital note-taking or support palm-rejection. The company will be offering a "Rubberdium" stylus (presumably capacitive) with the Optimus Vu, though it isn't clear whether or not this will be an included accessory or a separate purchase. LTE is included for 4G data access.
LG makes no mention of whether or not the Optimus Vu will be launched outside of Korea, where it is set to become available in March.
Specs we know so far:
Chipset: 1.5GHz Dual-Core Processor
Display: 5-inch (1024×768) IPS Display
Memory: 32GB eMMC and 1GB DDR2
Camera: 8MP with AF LED Flash (rear) and 1.3MP (front)
OS: Android 2.3 Gingerbread (upgradable to Android 4.0 ICS)
Battery: 2,080mAh
Dimension (L x W x D): 139.6 x 90.4 x 8.5mm
Connectors: HDMI (unspecified socket type)
As mentioned, LG will have the Optimus Vu on display at MWC next week, so stay tuned for more specs and info coming soon.
More photos below: