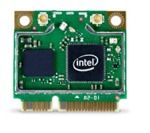 If you're checking out specifications and features of Ultrabooks for a purchase soon, make sure you keep an eye out for Intel Centrino Wireless modules. I've had very good experience with the Centrino 6230  module on two Ultrabooks now and having used Intel My WiFi tech today I can say that some of the features are extremely useful and easy to use.
The Centrino 6230 module is a 2 antenna, dual-band (2.4Ghz and 5Ghz) Wifi unit with Bluetooth 3.0 + HS on-board.  WiFi-n speeds go up to 300Mbps and I can confirm that stability and range is excellent. If you're in a crowded hotspot, the 6230 could give you an advantage.
The 6230 support Intel's Wireless Display 2 functionality where, given a compatible receiver, TV or STB, you can transmit 1080p format images (Note: with some lossy compression I understand) wirelessly. I haven't tested Wireless Display outside a trade show yet so I can't tell you too much about it. I can tell you about My Wi-Fi though.  In this article you find out how to do it and what you can do with it.
My WiFi is an implementation of the Wi-Fi Direct standard for easy peer-to-peer Wi-Fi connectivity.  It's a bit like a Bluetooth PAN or an Ad-Hoc connection but with easier setup, longer range and speed and optional simultaneous connectivity to an infrastructure hotspot such as a home Internet router. In effect it's allowing you to 1) create a local, private WiFi network for data sharing 2) enable routing functionality that allows you to share your Internet connection. In my tests I'm re-sharing my WiFi-based Internet connection but I'm assuming one can re-share a cables LAN or 3G/4G connection too. Note that WiFi Direct is implemented in Android 4 (Ice Cream Sandwich) and provides hooks for 'sending' to other ICS-based devices that use WiFi  Direct. I'm not sure if it supports simultaneous infrastructure mode. I discuss private network connectivity below but first, here's a how-to.
Configuring My WiFi
For this test I used the Toshiba Z830 Ultrabook with default apps.
My WiFi runs in the notification area and you can access the configuration panel from there or simply type 'My' in the program search box and it will probably list as the first program. To enable My WiFi just click 'Enable' on the top right. At this point if your client Wifi device (the one you want to add into the private network) supports 'Push Button' configuration you can click 'Add New Device' , select the push-button configuration option and then use the same feature on your client. I connected an Android 4.0 device using this method.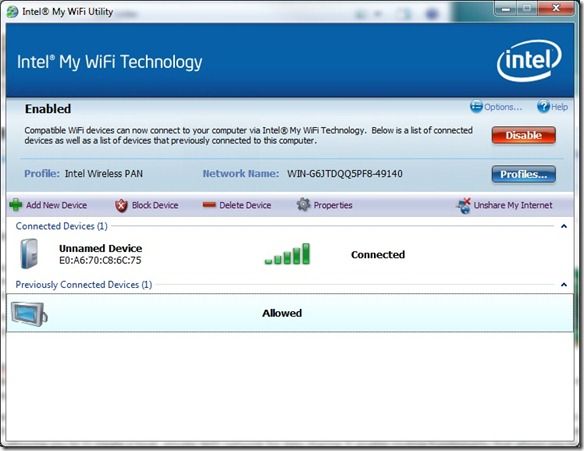 If your device doesn't support push-button sharing you can use the traditional method of shared password. To find (or set) the password, go into 'Profiles' and select 'Edit.'  Go to the 'Security' tab and view the password. The default password is huge but you can set it to something easier to remember if you wish.  Using this method I shortened the password and connected my Nokia N8 simultaneously with the Android 4 device.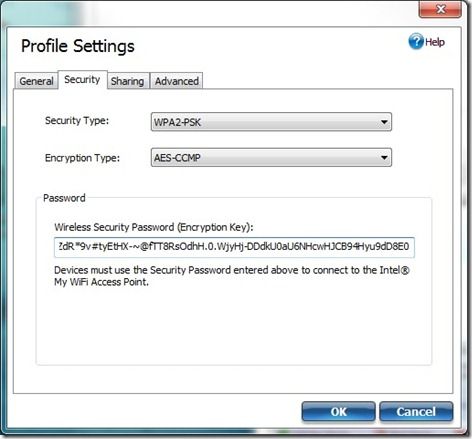 At this point you have devices connected on a private WiFi network using My WiFi. The likelihood is that you'll want to connect to the Internet through the My WiFi device (in this test, the Toshiba Z830.) Simply click the 'Share My Internet' button on the My WiFi control panel. (you may have to reconnect client devices in order to complete the configuration.) I tested sharing of both a LAN and WiFi internet connection successfully but the My WiFi application could not share a Bluetooth DUN connection that I set up.
In a speed test I was able to get full bandwidth from my 20mbps/2mbps cable connection via LAN connection sharing (Acer A500 Android tablet as test client using speedtest.net app, next to Toshiba Z830) and 7mbps/2mbps via WiFi sharing (Wi-Fi G hotspot 2 walls away, A500 at test client using speedtest.net app next to Toshiba Z830.) In a long-distance hotspot test I was able to get higher test speeds from my A500 tablet connected through the Z830 than with the A500 connected directly to the hotspot indicating that the Centrino module in the Z830 does a better job than the A500 in low-signal areas. I was unable to detect any CPU load on the Z830 during the sharing tests.
What can you do with a private wireless network?
The hope is that one day your peripherals will also have WiFi on board. Mobile phones, many TVs and gaming consoles already have built-in Wifi but this is likely to extend to other devices like cameras and cars. Take the Eye-Fi SD card for example. Using the My Wifi method you can put your SLR on a private network which means you don't have to rely on shared infrastructure. It makes it much quicker. Private network image and video sharing is also something to think about. You can use the technology to extend a network, strengthen a hotspot in remote areas (as above)  or even create a small mesh. By using connection sharing you automatically prevent public hotspot clients from connecting to clients on your shared network and filtering can be added to create a DMZ for files (file sharing on Windows only to the private network for example) and  business-class collaboration tools. There are also some serverless communication and gaming applications that can be used.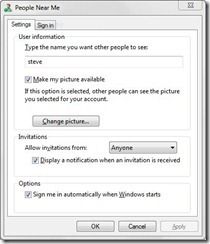 Windows Vista and 7 includes peer collaboration and a 'people near me' service. Not many people use it but you can enable it to provide zero-config connectivity under Windows. Try it at the next conference or trade show. DLNA works across the private network too (I tested DLNA music from a Nokia N8 to the Toshiba Z830 without having any Internet connection) as well as other network features such as Windows file sharing. There are some serverless gaming protocols too and of course, traditional internet protocols like FTP are easy to implement.
For more permanent private network setups and cross-device media file sharing and synchronization you might want to look at sharing and synchronization architectures that use a server such as  DoubleTwist, a media syncronisation app. For general file sharing and sync between Android and Windows clients without any Internet connection, check out WiPeer. AirDroid is an app I'll be checking out too.  Finally, for some open source private chat and sharing, look at XMPP. (Thanks to my Twitter followers for that suggestion.) Obviously there are many options but if you know of a sharing app that doesn't require an internet connection, a server or Windows share support and has clients for most major operating systems, please let me know in the comments below.
As it stands, My WiFi is likely to be used mostly to share internet connections. Ultrabooks that have 3G functionality will effectively gain local hotspot capability. Some semi-permanent scenarios like small classrooms and offices could benefit from server-based collaboration tools and eventually we should see cross-platform, low-configuration serverless discovery and communications if operating system vendors get together on standards or developers come up with some killer apps using existing toolsets.
Personal Cloud
Given a bunch of mobile devices and a few PCs meshed via a WiFi Direct connection we're effectively talking about a local connectivity cloud but as mentioned above, simple application-level communication solutions aren't there.  Intel are working in this area now under a project called the 'Compute Continuum' and there are a few apps out there that implement personal cloud features. One of those apps, Pair and Share, is exactly the type of app that's needed but it needs a lot more functionality before it's useful. Currently you can display photos on a PC which has the Pair and Share app installed but it's not a file transfer app and it's only a one-way communications app. If I have time I'll take a peek at the network level too see what protocols Intel are using. (Finders crossed for a standard protocol.)
If only someone could do a serious job implementing a network-based share service discovery system that works cross platform. The DLNA could be the people to get that implemented but it needs to be deeply integrated into operating systems before it becomes really useful. Any solution needs to be usable out-of-the-box without any Internet connection.
In the meantime, enjoy creating your own hotspots with My WiFi