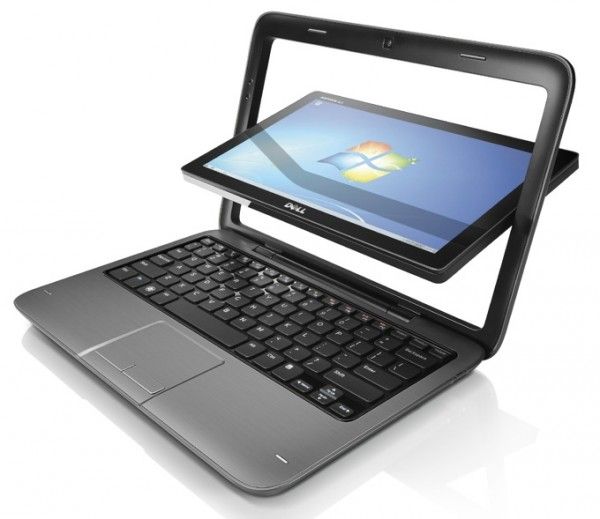 Dell may be looking to reboot it's screen-flipping netbook in Ultrabook form. The Inspiron Duo was a netbook offering from Dell which featured interesting convertible mechanics, wherein the screen flips around right inside of the bezel, allowing the device to function as a standard clamshell or tablet device. The netbook version of this didn't sell very well, but the convertible concept might not have died with it. With Windows 8's vastly improved touch functionality just around the corner, we'd love to see the XPS 12 from Dell.
If a slide leaked to Neowin is genuine, Dell is working on an XPS 12 Ultrabook which will feature the same convertible functionality as the Inspiron Duo.
Last week we highlighted some comments from CEO Michael Dell which seemed to indicate that the company is readying a touchscreen Ultrabook in anticipation of the Windows 8 launch. Given this leaked slide from Neowin, the evidence seems to be stacking up in favor of a convertible touchscreen Ultrabook from Dell.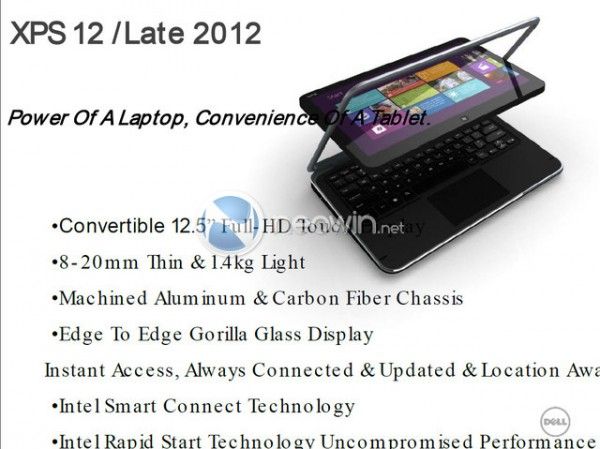 The atrocious formatting of the slide makes us immediately skeptical of its authenticity, but Neowin claims that it is from a proven source. According to the slide, the Ultrabook in reference is called the XPS 12 and features the following:
12.5″ 'full HD touch display'  — this could mean anywhere from 1280×720 to 1920×1080, it's a given in today's market that this will be a capacitive screen
8-20 mm — indicates a beveled form-factor like that of the XPS 13 and Asus Zenbook line (careful inspection of the photo supports this)
1.4kg — would be a decent weight given the extra hardware for a convertible glass screen
Edge to edge Gorilla Glass — important for 'slide-on' Metro gestures
Intel Smart Connect
Intel Rapid Start
From what we're seeing on the slide, the XPS 12 fits Intel's Ultrabook definition correctly. Even though the formatting of the slide is awful, the features sound right and the inclusion of "edge to edge" glass is a significant detail that is important to Metro; a faked slide probably would have missed this.
Note also in the photo that the XPS 12 appears to have a 'Windows button' at the bottom of the bezel. It could just be a logo, but why else would Dell put a Windows logo on the front of their device!
There's no release date or pricing info yet available for the XPS 12, but if we're lucky we might see this one at Computex next week! Stay tuned.