Envy 4 (14″) and Envy 6 (15.6″)

Positioning and Specs
The Envy 4 and Envy 6 are new additions (not refreshes) to HP's Ultrabook lineup. These are thicker than the Spectre XT, at 19.8mm, and are being offered at the value/budget-oriented option.
In addition to a very similar design as the Spectre XT, the Envy 4 and Envy 6 also offer discrete graphic options and an extra USB 3.0 port over the Spectre XT, which should give anyone looking for a 'premium' experience pause to look at the feature:price ratio. The only upper hand that the Spectre XT appears to have is thinness (14.5mm vs. 19.8)mm and one other important difference — the Envy 4 and Envy 6 use second-gen Sandy Bridge processors (and thus HD 3000 integrated graphics [discrete GPU option withstanding]) , while the Spectre XT is using the third-gen Ivy Bridge processors, accompanied by HD 4000 integrated graphics.
The Envy 4 has a 14″ screen while the Envy 6 has a 15.6″ screen. Both share a relatively low 1366×768 resolution which is surprising given the large screens. Both are nearly identical in terms of design, but there are some subtle differences in configuration between the two. In general, most specs are the same, with a few differences in configuration options.
The Envy 4 can be configured with either the Core i3 (1.4GHz) or Core i5 (1.6GHz + Turbo Boost) and a 320GB or 500GB HDD. Also offered is a supplemental 32GB mSSD cache for use with Intel's Smart Response technology.
The Envy 6 can only be configured with the aforementioned Core i5 processor and HDD options, with the added option for a 128GB SSD. The 32GB mSSD is included by default for Intel Smart Response.
Both units have the option of adding the discrete AMD Radeon HD 7670M GPU, WiDi, and a backlit keyboard. Both support configurations between 2GB and 8GB of RAM.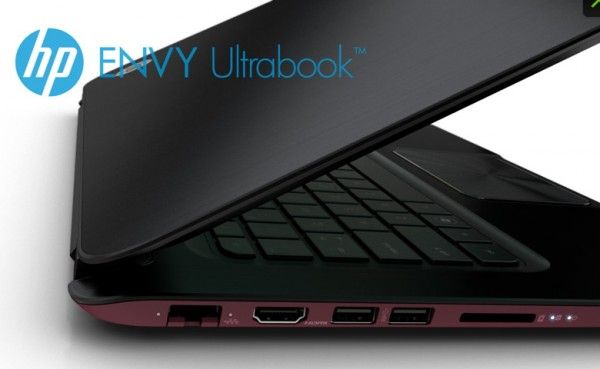 The port spread is nearly identical to the Spectre XT with the addition of one extra USB port, featuring 3 USB ports (2×3.0, 1×2.0), full HDMI, full SD, 3.5mm headphone jack, and gigabit ethernet (LAN).
Price and Release Date
Both the Envy 4 and Envy 6 Ultrabooks are available from HP today.
The Envy 4 starts at $799 with a maxed-out configuration running $1099 (HP is currently offering $100 off of these prices). Get it from HP here.
The Envy 6 starts at $899 with a top-end configuration at $1,224 (HP is currently offering $100 off of these prices). Get it from HP here.
If you'd like to read more about the Envy 4 and Envy 6 Ultrabooks, see our full article here. Otherwise, read on!