EliteBook Folio 9470m – 14″
Positioning and Specs
The Folio 9470m is a refresh of the Folio 13, and this is being clearly positioned as HP's enterprise Ultrabook. In fact, it you won't even find the Folio 9470m anywhere on HP's consumer website. The Folio 13 seemed to be a sort of experiment in the Ultrabook waters. It seems to have proven successful, as the Folio 9470m packs in a lot of business-focused features and brings things up to speed with and Ivy Bridge CPU.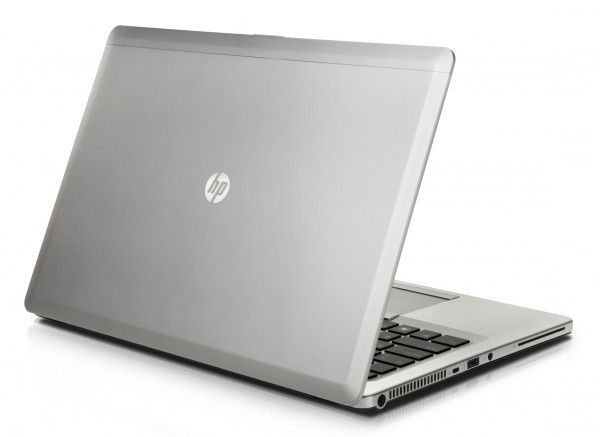 For business folks, you'll find a removable battery, a secondary battery port (for an extra 'slice' battery), optional integrated 3G/4G data connectivity, SC card slot, docking port, and biometric fingerprint scanner for security. The Folio 9470m Ultrabook is 19.8mm thick with a 14″ 1366×768 screen.
Furthermore, the Folio 9470m is part of HP's Global Series Program which allows businesses to buy standardized configurations of this device in 151 countries.
With support for up to 16GB of RAM and a 256GB SSD, the Ivy Bridge-based Folio 9470m Ultrabook could pack a serious punch. CPU options aren't specified yet, but we're likely looking at a Core i5 (with integrated HD 4000 graphics), and possibly an option for Core i7.
Ports have been improved over the older Folio 13. You'll find 3xUSB 3.0, full VGA, full DisplayPort (1.1a), combined mic/output 3.5mm headphone jack, full SD, and a full RJ45 (ethernet/lan) port.
Price and Release Date
HP's EliteBook Folio 9470m business Ultrabook is due out in October. Pricing has yet to be announced (likely because HP expects it to be purchased in bulk).
If you'd like to learn more about the Folio 9470m, see our full article here and also have a look at the 9470m gallery.