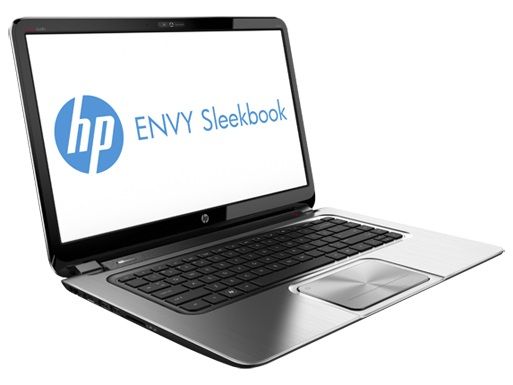 We've been tracking the Envy 4 and Envy 6 for the last few weeks. After some leaks, and some confusing official information from one of HP's sites, everything has been made clear — the new Envy 4 and Envy 6 are budget-oriented ultrathin devices which will come in official Ultrabook or AMD-based 'Sleekbook' flavors. The AMD options push the prices down even further by giving up on some of the Ultrabook feature requirements. Starting at $599 for the cheapest Sleekbook, or $699 for the cheapest Ultrabook, these are value-packed systems!
All we know about the 'Sleekbook' options at this point is that HP will be offering the Envy 4 and Envy 6 with AMD CPUs and discrete AMD GPUs, and this allows them to bring the pricing down even further. The Envy 6 Sleekbook, which has a 15.6″ screen, will start at $599 and is expected to be available in the US on June 20th. The Envy 4 Sleekbook is actually the more expensive of the Sleekbooks, despite being smaller, and will start at $699; it should be available soon.
HP has revealed much more information about the Ultrabook variants of the Envy 4 and Envy 6, check out all of the details below!
Envy 4 and Envy 6 Ultrabook Specs

With the Envy 4 and 6 Ultrabook you'll be looking at Sandy Bridge based 2nd-gen Intel Core CPU and a 19.8mm thick chassis and aprox. 1.8kg weight (depending on model and configuration).
The Envy 4 has a 14″ screen with a 1366×768 resolution and can be configured with either the Core i3-2367M (1.4GHz) or the Core i5-2467M (1.6GHz with turbo-boost function).
The Envy 6 is larger with a 15.6″ display but retains the same 1366×768 resolution. The Envy 6 comes equipped with the Core i5-2467M CPU and cannot be configured with the Core i3.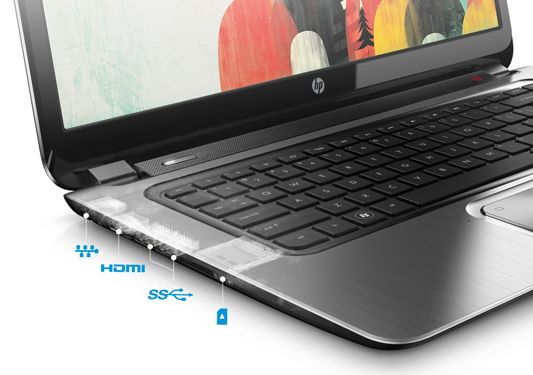 A solid set of ports are included: 2xUSB3.0, 1xUSB2.0, full HDMI, full SD, 3.5mm headphone and mic ports, and even a full gigabit ethernet (LAN) port. This is actually one of the most fully featured Ultrabooks from a port standpoint! Props to HP for that.
Both units can be configured with the discrete AMD Radeon HD 7670M GPU which has 2GB of dedicated video RAM, or you can stick with the integrated HD3000 graphics if you want to keep the price down. RAM can be configured anywhere from 2GB to 8GB of DDR3 RAM. Storage options are 320GB or 500GB HDD on the Envy 4, while the Envy 6 also has the option for a 128GB SSD.
At the configuration stage, you can add a 32GB mSSD to both the Envy 4 (it is included with the Envy 6 by default). This allows both units to support Intel's Smart Response technology for blazing-fast boot times and application loading.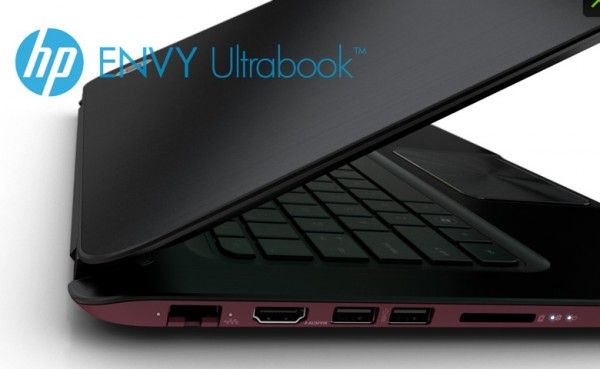 Both models come in two colors, black or silver, and can have a backlit keyboard added for $20. An additional $15 will add Intel's Wireless Display (WiDi) functionality. Both models have an HD webcam included standard. Battery life for both models is rated around 8 hours.
Here you can find the new Envy 4 and Envy 6 Ultrabook/Sleekbook on HP's website (the pages say 'Sleekbook', but these are the Intel-based Ultrabook variants none-the-less):
Envy 4 and Envy 6 Release Date and Price
The Envy 4 and Envy 6 are available today direct from HP's site (links above).
The Envy 4 starts at $699 with a top-end configuration running $999 which includes the 32GB mSSD for Intel Smart Response, the backlit keyboard, a 500GB HDD, WiDi, Intel  Core i5-2467M, AMD 2GB Radeon HD 7670M, and 8GB of RAM.
The Envy 6 starts at $799 with a top-end configuration will cost $1,124.99 which includes the same features as the top end Envy 4 model listed above with the exception of a 128GB SSD instead of a 500GB HDD.
Videos
Gallery