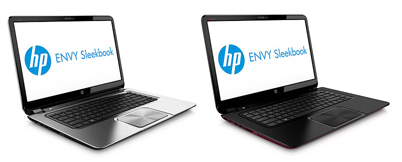 Apparently not content with being one-upped by its smaller sibling, the HP Envy 6 Ultrabook is now showing its face (and price tag) on HP's Australian website. We've unfortunately confirmed a large (15.6″) but low resolution 1366×768 screen, and there seems to be an indication that the Envy 6 is lacking the discrete GPU that has been confirmed in the Envy 4, though we're keeping our fingers crossed that this is incorrect!
We pointed out just a moment ago that HP's Chinese website had confirmed the Envy 4 specs that were leaked the other week as well as showed the price (under $1000!) that the unit would cost. Well this time the larger 15.6″ Envy 6 has shown up on HP's Australian site, also bearing its price.
In addition to confirming most of the leaked specs, we can see that at least one configuration of the Envy 6 has a price of AU$1,199 ($1221 USD). At first this seems an oddly high price given that the top-end configuration for the HP Envy 4 is under $1000, but this price does includes GST (10%), so in reality the price is likely close in line with the Envy 4 — right around $1000.
All of the specs appear to be the same as the Envy 4, except HP's Australian listing for the Envy 6 doesn't even mention the discrete AMD Radeon graphics that should be included; instead it simply lists 'Intel UMA Shared Graphics'. I can only hope that this is an error, as it would make no sense to charge the same amount for the slightly larger Envy 6 that lacks the discrete graphics of the Envy 4.
Also surprising is confirmation that the 15.6″ screen's resolution is indeed a low 1366×768 (this is the first official source we've seen that corroborated the leaked resolution). I was thinking that a 1080p resolution on the Envy 6 could account for the pricing similarity between it and the Envy 4 (despite the apparently missing AMD graphics) but unless the information that HP has listed is just flat out incorrect, this doesn't seem to be the case.
I'm thoroughly surprised at HP's decision to equip a 15.6″ Ultrabook with a low resolution 1366×768 screen. The Asus UX31, among other Ultrabooks, only has a 13.3″ screen, but its resolution is 1600×900. By some perspectives, it makes sense (namely keeping the Envy 4 and 6 prices value-oriented), but why add 1.6 inches onto the screen without adding to the resolution? Perhaps HP will offer some configuration options for the Envy 6, allowing the user to select a higher resolution screen — we'll have to wait and see.