The X1 is probably the most referenced laptop by commenters on Ultrabook News so I'm sure many of you will be excited to know that it's being updated and will be offered, alongside the original X1, as the Lenovo Thinkpad X1 Carbon. This isn't just an Ivy Bridge CPU/GPU update, it's a full re-work that brings it down to under 3lbs in weight. That's about 1.35 KG, for a 14" Ultrabook.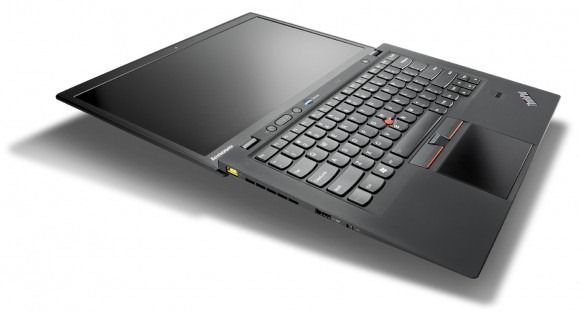 The X1 Carbon is the second Ultrabook that we've seen that is built on a carbon fiber chassis. (The LuvBook X is also the lightest Ultrabook in its screen class.) Screen resolution is 1600×900 and is said to be wide-angle, but not IPS. As shown in the image above, it's matt and it folds back flat.
The ThinkPad Precision Keyboard looks very much the same as the one we're testing in the U300S right now but it has the touchpoint button, a fingerprint reader and the Thinkpad style mouse buttons. It will be backlit too. RapidCharge and 3G/4G options will be available.
In terms of ports we're seeing:
Full SD card slot
Headphone/headset
Mini Display port
USB 3.0
USB 2.0
CPU details are under embargo which makes sense if it's a true Ultrabook but expect similar options to other devices across the i3, i5 and i7 range. Storage will be 128Gb or 256GB SSD. Lenovo also announced a USB 3.0 docking station. We suspect that will be similar to the Toshiba Dynadock USB 3.0 and a fairly universal product.
Pricing has not been made public but this is clearly going to be a device that extends will into the $2K range. As far as we can tell, Lenovo did not announce any Ivy Bridge update for the existing X1. Availability: Summer 2012
From the press release:
ThinkPad X1 Carbon: The Lightest Professional Ultrabook
Created for those who demand the highest levels of performance, mobility, entertainment and design, the ThinkPad X1 Carbon exceeds Ultrabook™ specifications by using a premium carbon fiber rollcage to create a durable UltrabookTM weighing less than three pounds. Other premium features include 3G connectivity for anywhere anytime access, Lenovo RapidCharge for a near-full battery charge in 30 minutes and Intel vPro technology for manageability. "We crafted the ThinkPad X1 Carbon with premium carbon fiber material in order to make it incredibly thin and light, yet durable," said Lu Yan, senior vice president, Think Product Group, Lenovo. "Our new ThinkPad laptop portfolio embodies much of the innovative thinking exemplified in the X1 Carbon, such as a backlit keyboard, super-bright high definition display, Dolby® Home Theatre® and rich communications features that balance business performance with personal use."
Via Notebookcheck.net and The Verge who have some hands-on pictures.