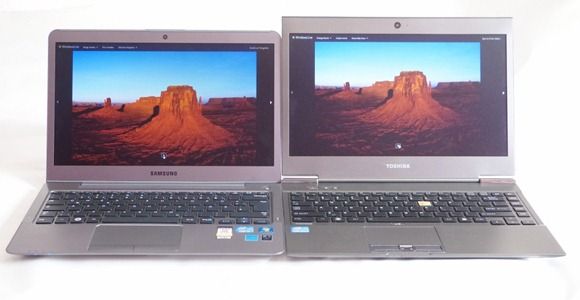 There was a lot of talk about new Ultrabooks at Computex this week but we shouldn't forget that there are going to be a number of first-gen models that will get an Ivy Bridge upgrade. Given that they have all been well tested, it could be worth taking a closer look at some of these. In fact, keep an eye out for offers. We've already seen one or two coming in at low prices.
First on the list is the Toshiba Z930. Toshiba have done a little bit more than just upgrade the CPU but we're still not 100% sure how the EU and US models will pan out. The Z935 in the USA could actually be a Core i3 product which means a longer wait. We do expect a competitive price though.
We've confirmed with Acer that the S3 will get an Ivy Bridge upgrade. We're also seeing it available online too.  In fact the Core i7 version with 128GB SSD is around €1000 after taxes (839.50 before) and looks like it's shipping now in Europe. Entry level Ivy Bridge models are 20% less than this and about 15% more expensive than the Sandy Bridge models.
One that we would really like to check out further is the Samsung Series 5 13". We've got the Sandy Bridge model here and a side-by-side test would highlight the real-life difference between the 2nd and 3rd-gen Cores. Entry level Series 5's with Ivy Bridge are only 60 euros above the base model – 799 Euros – and available now in Europe.
Sticking with Samsung, they finally came clean and presented the Series 9 with Ivy Bridge inside. We will be testing one of these next week but we don't have pricing or availability yet.
Finally, the Sony Vaio T13 (SVT-13) will get Ivy Bridge. In some areas it was never available with Sandy Bridge but the important thing here is that it's coming in at a good price – about 15% more than the Acer S3 and Samsung Series 5 is still in the low-mid end range.
599-699 – Fight Club
The Dell Inspiron 14z, ASUS S46, Lenovo U310 and Toshiba U840 will battle it out in the 599-699 ($ and Euros) space and there's a chance that Samsung and Acer push their solutions into that space too. Sandy Bridge models may even go cheaper. The cheapest Ultrabook on the market right now is already close to 600€. A Core i3 version of the Lenovo U310 (MAG6BGE) is showing here for €619 – after 19% taxes – that equates to about $650 in the USA.
With Ivy Bridge pushing down and older Sandy Bridge models having to have discounts to fit in, thre'es going to be a lot of competition in the 599-699 range come July and August. We'll try and help you with those back-to-school choices when the time comes.