Launched as part of the Gigabyte X11 event a few days ago (and largely ignored due to the wow factor of the X11) are the mainstream Ultrabooks from Gigabyte, the U2440 and U2442 in various model variation. Starting at $699 and going up to 1600×900 with GT640M graphics, these are definitely worth taking a closer look at. Price, specs and availability below.
Update: Another Gigabyte press release went out on Day 1 of Computex.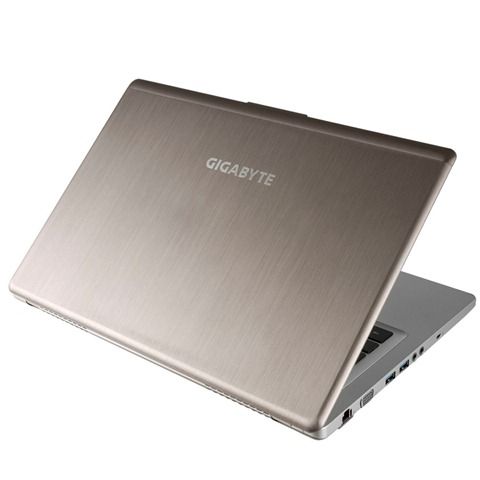 Gigabyte are well-know for practical designs with a good set of ports and the U2440/U2442 models are no exception. There's a range of models to choose from. Here's a rundown of the differences.
The U2440 M/N come with a DVD drive but include a smaller default battery. There's a 6-cell option here though so clearly the battery is removable.  The U2442 C/N/V models don't have the DVD drive but include a sealed 44Wh battery.
U2240. Both models have HDD and SSD cache options. The weight in 1.92KG and have 1366×768 screens. Prices start at $699 and availability is mid-June. Full specifications and more information on our database page.
U2240 M – Core i3-3217U and HD400 graphics
U2240 N – Core i5-3317U and Nvidia GT630M
U2442. All models include Nvidia GT640M. Weight 1.57KG with SSD. 1.66KG with HDD. Includes backlit keyboard. Prices start at $999 and availability is late June. Full specifications and more information on our database page.
U2442C – Core i5-3210M (2.5Ghz Mobile, not Ultra CPU) 128GB SSD. 1366×768 Screen
U2442N – Core i5-3210M (2.5Ghz Mobile, Not Ultra CPU) SSD+HDD options and a 1900×600 screen
U2442V – Core i7-3517U (1.9Ghz-3.0Ghz ultra) with the same storage options and screen. Likely to be the only true Ultrabook of the range.
Looking closely at the U2442N and V? We are too; The GT640M claims 3D Mark 06 scores "up to 11,000 points or more." Combined with the 1600×900 screen it's looking like a practical mobile graphics powerhouse. The only thing that might be a red flag is the relatively small 44Wh battery that would probably drain in around an hour under a full load test.
Expect to see hands-on with these at Computex.  A video from LaptopMag is already up and embedded below.
Specifications via Gigabyte.