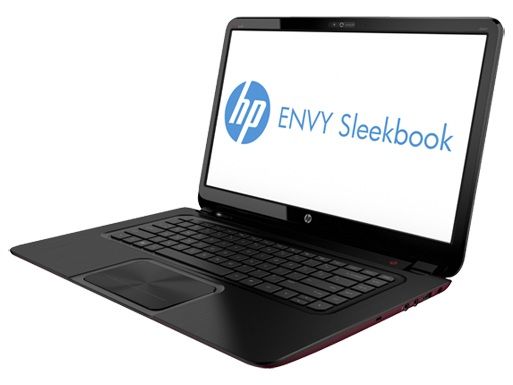 Back toward the beginning of May, HP revealed a deluge of new Ultrabook products. Despite a rather confusing array of press releases and announcements, we waded through it all and found what many others missed — HP would be offering the Envy 4 and Envy 6 as not just Intel-powered Ultrabooks, but also as AMD-powered ultrathins. After quite a while, HP now has available the AMD Envy 6 Sleekbook for $699; can it compete with low priced Ivy Bridge Ultrabooks, and what about it's twin, the Envy 6 Ultrabook?
The Envy 6 Sleekbook and Envy 6 Ultrabook have essentially the same external design. The weight is quite heavy at 2kg, but this is a 15.6″ unit; the thickness is just shy of 20mm. Both feature Beats audio.
The Envy 6 Sleekbook uses AMD's A6-4455m 'APU' which is their ULV option with 17W TDP for ultrathin computers. The A6 is dual-core and clocked at 2.1GHz; it seems to be able to overclock to 2.6GHz as well. The APU has its own integrated graphics which are clocked to either 423Mhz or 327MHz (this doesn't mean much to the end-user, but for developers, the integrated graphics are to take advantage of AMD's Accelerated Parallel Processing technique). In addition to the APU's integrated graphics, the Envy 6 Sleekbook has discrete graphics on board, also from AMD; the Radeon HD 7500G GPU.
4GB of RAM is standard on the Envy 6 (this is either 1066Mhz or 1333Mhz RAM, a bit slower than the 1600MHz RAM you'll find on most Ivy Bridge Ultrabooks). RAM is user-upgradeable to 16GB. You'll find a 500GB (5400RPM) HDD on board as well.
The 15.6″ screen is 1366×768, and affords the Envy 6 Sleekbook a large enough footprint to fit an optical drive (which you won't find on the Envy 6 Ultrabook).
The port set includes: ethernet/LAN (RJ45), 2xUSB 3.0, 1xUSB 2.0, full HDMI, full VGA, 3.5mm headphone, 3.5mm microphone, and a multi-card reader for SD and MMC.
The key selling point for the AMD Envy 6 Sleekbook over the Intel Envy 6 Ultrabook is battery life and cost. There are no configuration options from HP on the Envy 6 Sleekbook, so what you see is what you get for $699; that's $100 off of the Ultrabook version, but is it worth it? HP says that the Envy 6 Sleekbook will last for 9 hours which, using our 2/3 rule, will probably realistically leave you with around 6 hours — not bad at all.
We'll need to wait for real-world testing to make the final call on which holds more value, but if you're not willing to wait, the AMD Envy 6 Sleekbook is available now from HP. We should eventually see the Envy 4 (14″ screen) launched as an AMD-powered Sleekbook as well. Stay tuned for that if you're looking for something a bit smaller.