HP may have just put together the most confusing range of thin and light laptops ever. Where sleekbooks overlap with Ultrabooks, 2nd-Gen and 3rd-Gen CPUs co-exist as model options and where brand names serve to just confuse us. The Envy, Spectre, Folio, Sleekbook, Ultrabook, Elite XT laptops are now online at HP.com where you can buy a Sleekbook with an Ivy Bridge CPU and AMD graphics that we can't distinguish from an Ultrabook.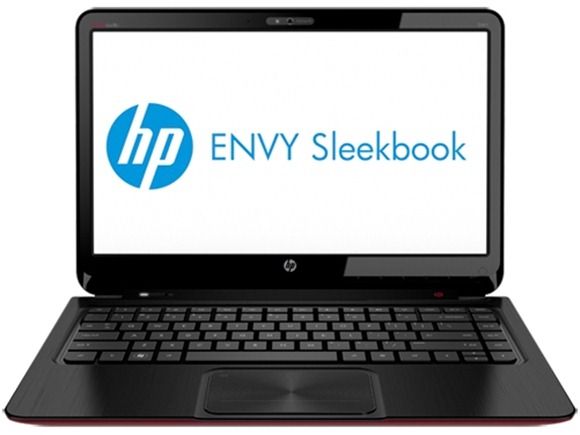 We've just taken a look at the range of thin and light laptops at HP.com. While it's nice to see the HP Envy Spectre XT available for $999.99, when it comes to the Envy 4t 'Sleekbook,' we're totally confused as to why it's only available with Intel CPUs. The CPUs range from 2nd-Gen Core to 3rd-Gen (Ivy Bridge) Core. There's no SSD but there's an SSD cache upgrade available for $50 so there's the possibility that some of the model configurations are actually Ultrabooks.  But where's that AMD option that, frankly, we're quite excited to see in the market? To add to the confusion you can get AMD graphics as an option with the Intel Core CPUs. Prices on the Envy 4t start at $699.99. We suspect that the AMD option will feed in at a later date but please, HP, couldn't you have made it a bit simpler for our readers?
The Envy 6T Ultrabook comes in at $799.99 after savings. You've got the 15.6″ screen, 2nd and 3rd-gen Intel CPU options, an AMD Radeon discreet GPU option and the same hard drives as on the 4t – but with the SSD cache option thrown in for the price. 2GB base RAM looks a little on the low side but a free 4GB upgrade is included right now.
The Folio 13 is still on offer at $949 with only the 2nd-Gen Intel Core CPU. The Envy 14 Spectre is also available – and marked up as a 'Notebook PC.'
You can enjoy the fun of playing 'what's an Ultrabook' at HP.com (We dare not take a look at other country HP websites at this stage!)
All the models are in our database (base models only) so you can get a good overview of the 8 thin and lights here.