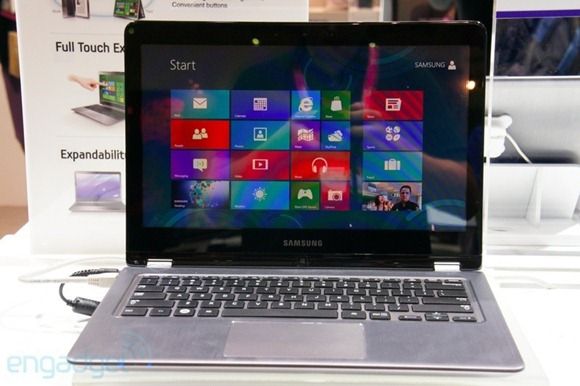 The Series 5 Ultra Touch and Series 5 Ultra Convertible have been spotted by Engadget at Computex. The touch-enabled Ultrabooks have not been formerly announced by Samsung (yet) by Engadget have pics and details.
Clearly these are Windows 8 Ultrabooks so it's interesting that this South Korean company wasn't involved in the press events yesterday which seemed to focused around pushing Windows 8, at least for the Taiwanese manufacturers. Windows 8 also means few details as prices and specifications are refined.
The Samsung Series 5 Ultra convertible will interest those of you that like the Lenovo Yoga design (which we're expecting to hear more about today) as it includes a screen that flips back all the way onto itself. There's no indication of weight.
The Samsung Series 5 Ultra Touch looks like a simple touch upgrade to the existing Series 5 device.
Head on over to Engadget for some more pics. The video is below.
Update: A second hands-on video has been posted by NDevil